Elevate aesthetics: Northridge Pool Plastering for a stunning finish. Dive into quality craftsmanship and transform your pool with elegance. Looking for a contractor for Northridge Pool Plastering? You're in the right place. One of the best ways to take care of your backyard pool is by maintaining your pool's interior finish, and one way that can be achieved is by pool remodeling. Today, we'll talk about what to look for and who to hire if you're planning to have your pool renovated.
Let's get started.
Look for a Licensed Pool Contractor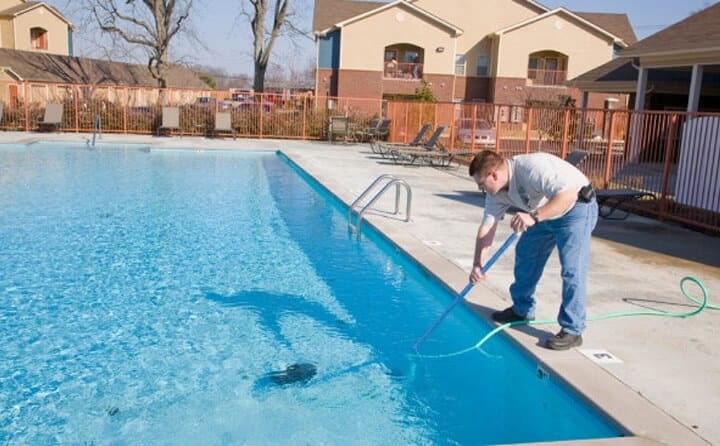 When hiring a pool contractor, it's important to find one that's a licensed pool professional. A license to operate as a pool contractor does not only mean that the local government allows them to conduct swimming pool-related businesses, but this also means that they have passed all the necessary requirements set by the local state. As an example, California's code of regulations requires a pool contractor license applicant to have, at the very least, 4 years of performing or supervising undertakings related to swimming pool work. This only means that a C-53 – Swimming Pool Contractor license holder, has enough experience to run a pool contracting business and carry out the task themselves.
We, at Stanton Pools, are licensed to perform construction of swimming pools including spas or hot tubs. We're also licensed to install heating equipment including solar-powered implements to regulate your pool's temperature. We're also the company you can go to when it comes to having your pool remodeled and renovated. Basically, we can provide service involving the trades or skills necessary for swimming pool construction and renovation.
Not only is Stanton Pools a licensed company, but our team of experienced professionals is also bonded and insured.
Look for an Experienced Pool Contractor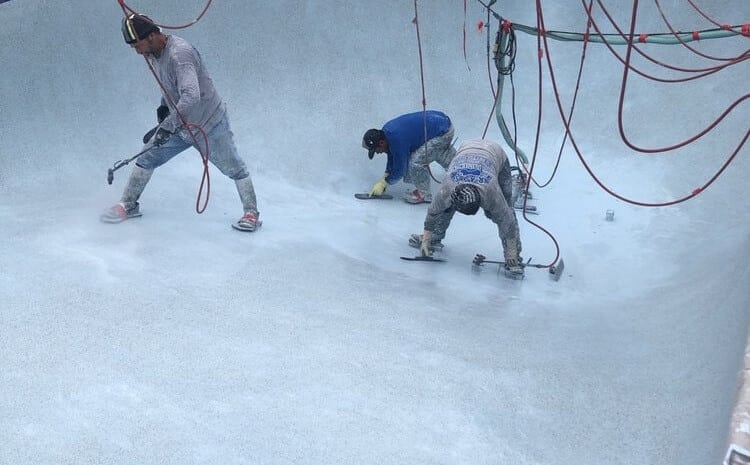 In some cases, finding a licensed contractor for your Northridge Pool Plastering project may not be enough. In this kind of business, experience matters, and California's C-53 – Swimming Pool Contractor requirements only necessitate 4 years of pool contracting experience. While this is deemed a long enough time to know a lot about pool construction and remodeling, contractors with longer practical experiences will have a better chance of solving repair issues and coming up with plans to carry out remodeling projects. Pools have been a fixture in our homes for more than a century and it's been said that the first residential swimming pool was built around 1895, on the Vanderbilt estate in Asheville, North Carolina. What we're trying to say here is that a majority of today's pools are not always outfitted with state-of-the-art equipment and 4 years of experience can only get you so far.
Stanton Pools have been around for well over a decade. This gave us more than enough time to deal with dated pool systems, old swimming pool structures, and witness the ebb and flow of the trends in swimming pool remodeling and repair. We're a company that knows exactly what we're doing. Having been in the business since 2008 also gave us the opportunity to establish good business relationships not only with our customers, but also with suppliers whose products work best for pool remodeling and renovation. See, experience will not only give you the time to develop the skills you need in this trade but also give you the time to know where to get the best raw materials for pools that look as good as they will last. We've been working on various types of swimming pools and pool equipment, both old and new, for as long as we can remember. And we're proud to have come this far in this industry where passion and dedication along with practical experience matters.
Look for a Reputable Pool Contractor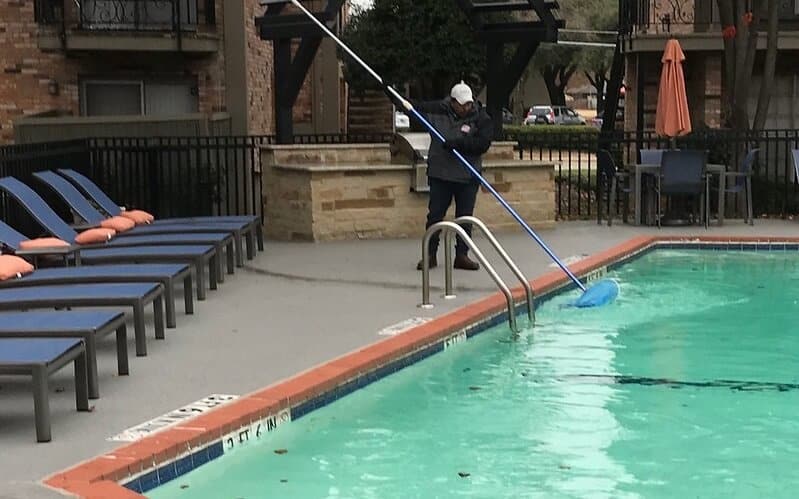 Another thing to look out for when finding a contractor to carry out pool resurfacing in Northridge Pool Plastering is reputation. Before you decide who to hire, check out what your contractor's previous customers have to say. Who else would know better than the people they previously worked with and the owners of the pools they've serviced. A lot of pool professionals nowadays leverage the power of online platforms like Yelp. Go online and check out various online forums, business pages, and other similar sites where you can see comments and reviews left by their previous customers. It takes compelling customer service for someone to leave a positive review and an appalling one to push a customer to write a negative one. For obvious reasons, choose a pool contractor with positive reviews. This only means that they take what they do to heart and that they value each interaction they have with their customers, whether it's a quick pool cleaning and maintenance or a major resurfacing and remodeling project.
Here at Stanton Pools, we're proud of all the positive reviews we get from our customers. For use, apart from the profit we make from each project, their unwavering appreciation for what we do drives us to be better pool professionals. We do it not only because we're passionate about pools, but also because these positive reviews encourage us to provide the best service we can give. We have over 100 five-star ratings on Yelp and likewise good standing in other online platforms. If you're looking for a pool contractor with projects to show and good feedback to boot, then look no further.
Look for a Knowledgeable Pool Contractor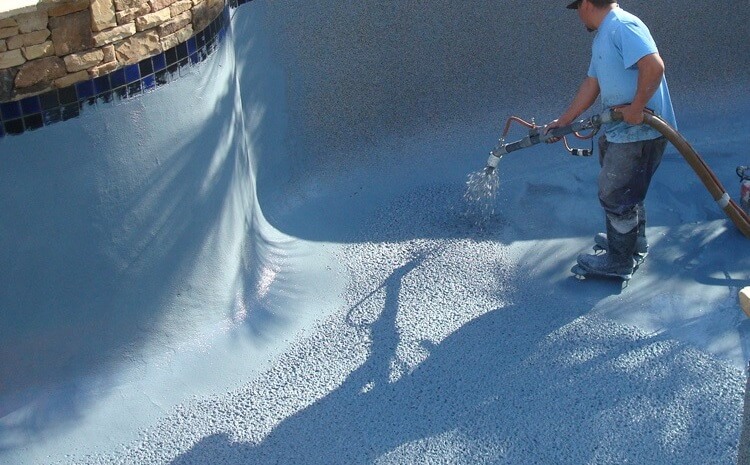 Getting good reviews is one thing, but knowing what you're actually doing is another. Pool plastering may not be rocket science but it requires a certain set of skills and knowledge. A knowledgeable pool contractor will not shy away from discussing the various types of materials applicable to your pool and the best way to approach pool remodeling in general. No two pools are the same, and on that note, your pool contractor should be able to help you find the best way to improve your pool's structural integrity and aesthetic beauty based on various factors.
At Stanton Pools, we are knowledgeable about various types of swimming pool finishes and the best means and methodology of applying them to get the best results. For example, when chipping out the old pool interior, we use only the chip out method. That's because the chip out method not only is the National Plasterers Council's recommended means of removing the old surface, but based on our experience, it offers a more significant result in taking out the old interior. Especially when we're applying pool pebble and pool tile, removing more of the old surface ensures better adhesion and better longevity. And while we're on the topic of longevity, we know that the kind of finish you choose for your pool affects its durability and overall lifespan. Under good conditions, pool plaster will last you a good 7 years while pool pebble and pool tile can last as long as 15 to 20 years. With these in mind, we're able to provide you with better recommendations when planning the course of action in remodeling your pool.
Furthermore, other pool professionals are quick to suggest some of the more expensive options not only when remodeling your pool but also when repairing your equipment. Our technicians are learned in working with various types of pool equipment from different makes and models so you won't find any of our guys scratching their heads and telling you to just replace the pool equipment because they don't know what to do. On that note, our team will tell you when your pool equipment is no longer serviceable and trust that when they tell you to have it replaced, they have your best interest in mind.
Look for a Pool Contractor who Offers Warranty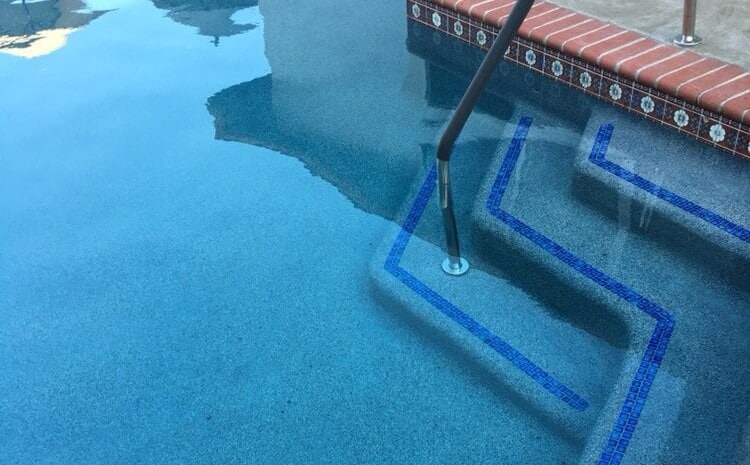 When hiring a pool contractor, it's important to have one who stands by their project. Unfortunately, there are pool contractors who "disappear" at the first sign of an issue. Pool professionals who will give you a hard time getting them to answer for a faulty project. This could range anywhere from incorrect pool equipment installation to poor workmanship. It's important to have a pool contractor that understands its obligations after the project is finished.
Here at Stanton Pools, we're proud of the workmanship our team provides and we stand by them. Whether they're out to repair or install your new pool equipment as well as when they're out for pool remodeling contracts, we know that they give their very best to provide impeccable service. Here's an example. Because we're backed by professionals who are licensed, bonded, and insured, you can be sure that the crew installing the pool interior is recognized by the manufacturer of the materials used in your project. This makes it easier to claim warranty for pool pebble or pool tile that might have not lived to the expectations set by the manufacturer. On the same note, we also will honor our own warranty for poor workmanship should there be any.
Finding a contractor is easy, but finding a contractor you can trust could be challenging. At Stanton Pools, we've always valued long term business relationships and we believe in doing honest, ethical, and fair business. So, for all your pool plastering needs, get Northridge Pool Plastering finest, get Stanton Pools.
Learn more, read another helpful article: