Dream backyard retreat: Explore Backyard Pool Ideas for inspiration. Dive into creative designs and transform your space into a paradise. This year, we've seen a huge transition as we've all been introduced to what the new normal is. Businesses had to adapt and jobs slowly moved from corporate to home locations.
And while we're all busy turning empty rooms into remote offices so we can work from home, the new normal also gave way for us to redesign our homes for the perfect staycation.
It's not a coincidence Google led you to this page, we're here to give you 25 of the best backyard pool ideas this 2020, in case you're planning to have your own pool built or a pool remodeling. So, without further ado, let's begin.
1. Minimalist Pool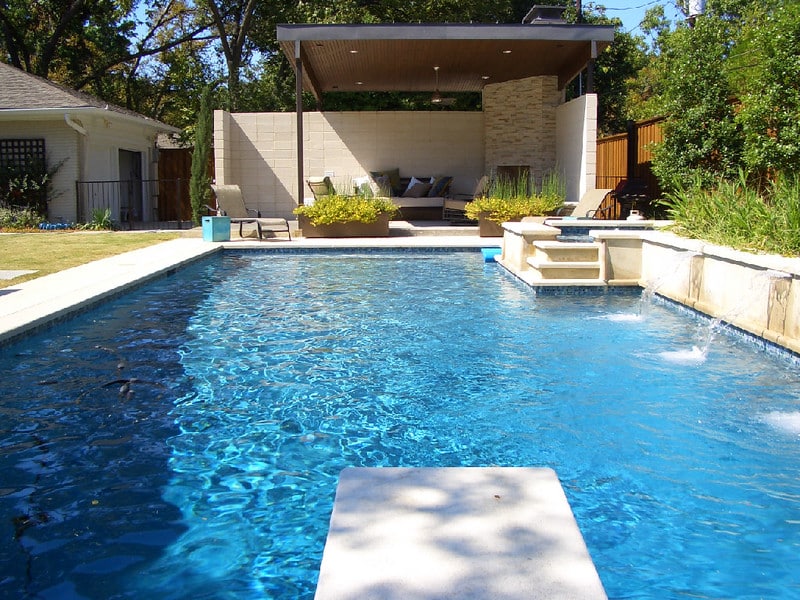 If you're one who likes to keep it clean, you might want to take a minimalist approach when designing your backyard pool. Minimalism in pools doesn't necessarily mean you have to skimp on pool equipment or cut back on materials or even pool furniture.
While others may think that minimalist pools look dull and boring, others will say that it's all about toning down and finding the right balance in style and design. On the contrary, minimalist pools offer a stunning landscape and a beautiful picture with the actual pool as the center of attraction.
Minimalist pools don't look scattered and in disarray, it's often calming to look at and offers a serene place for those looking to find their Zen.
2. Modern Pool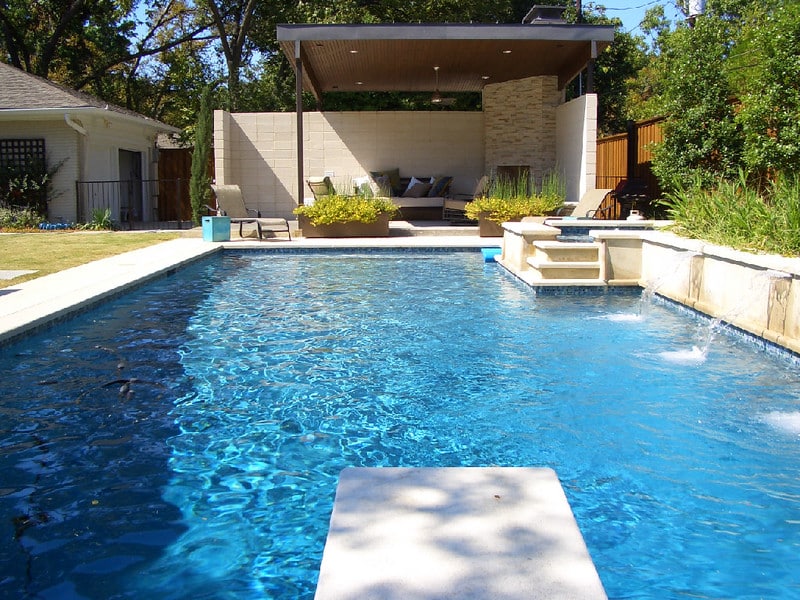 Modern pool designs don't always mean that it's outfitted with the latest features and the most expensive equipment.
Oftentimes, modern pools care about how it looks and how it exudes modernity than the kind of equipment it packs. A modern pool emanates contemporary design and engineering and will usually have furniture akin to its modern roots.
Fashionable lounge chairs and similar-looking side tables add to its fresh and updated look. Of course, no one's stopping you from equipping your modern backyard pool with saltwater generators and automated equipment.
Nevertheless, you can always achieve a modern look without breaking the bank.
3. Mediterranean Pool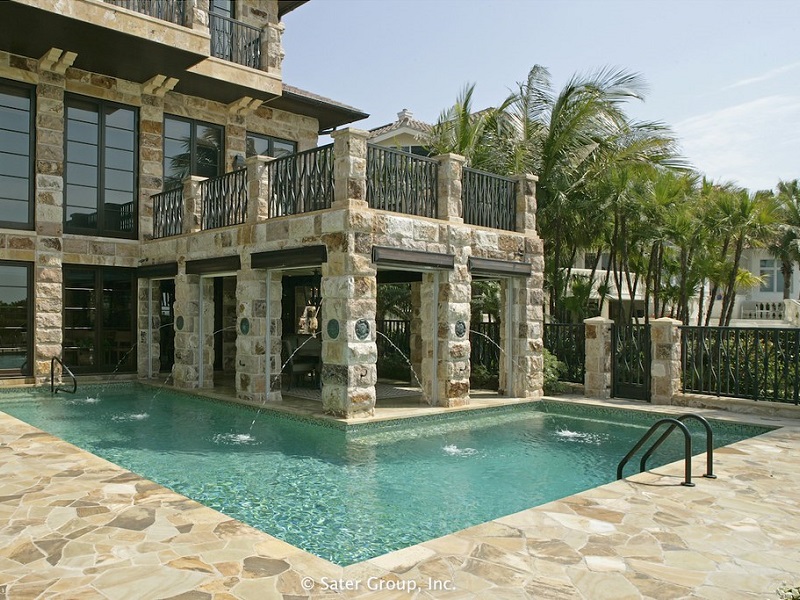 Both elegant and romantic, Mediterranean pools add a warm character to your backyard pool. The mediterranean design takes inspiration from the aesthetic look and feel of Southern European homes.
Mediterranean pools are often made with blue and white accents and make good use of light and warm color schemes. It often offers a homey feel where one would want to lump up a chair and with a book on one hand and a glass of wine on the other.
A Mediterranean design can go well with most rustic homes and are a great place to entertain guests and families. The key to achieving this look is through the use of ornamental pool tiles.
You don't have to go all out and give the entirety of your pool's interior the tile treatment, blue and white waterline tiles, as well as tiles on the edges of the pool steps, can help elevate your backyard's look and bring you closer to the inlands.
4. Tropical (Natural) Landscape Pool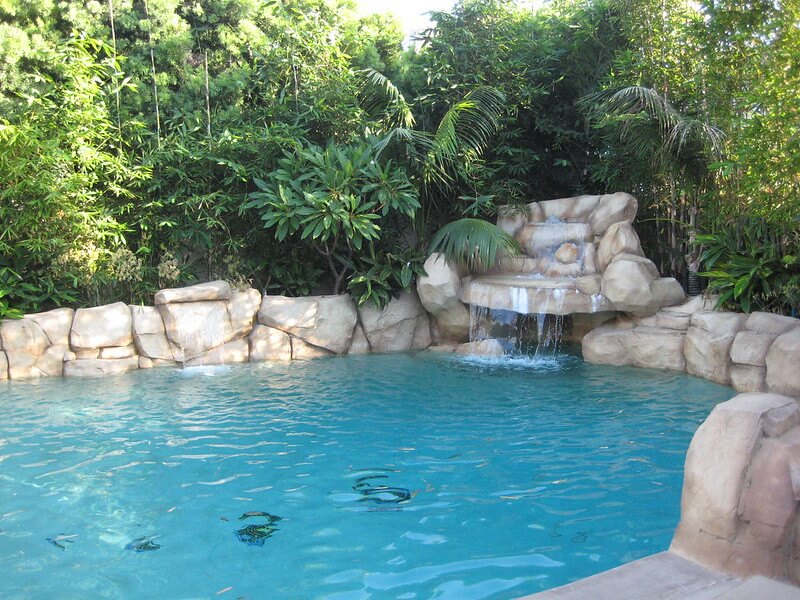 Some pools can recreate a natural environment making your backyard look like an exotic retreat. It may require a little landscaping which may include a variety of plant life as well as natural stones that will make for a scenic backdrop befitting of your personal oasis.
You can finish the deck with a variety of materials, from wood to stone, and pair it with a pool pebble interior. Some pool owners even take their backyard pools to the top with waterfalls that can be made with natural or faux stone.
That said, a tropical pool can let you live out or relive your travel adventures, all in the comfort of your own home.
Related Post: Pebble or Plaster for Resurfacing: Which One to Choose?
5. Luxury Pool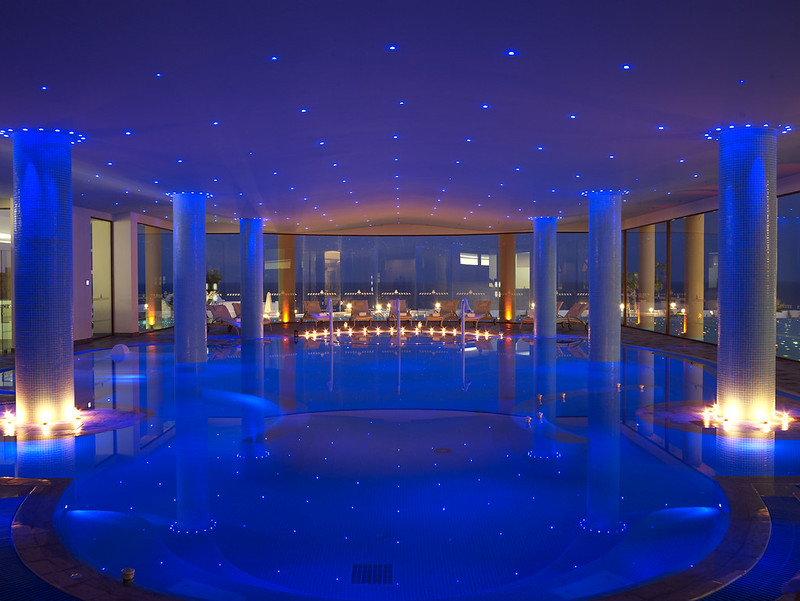 As the name implies, a luxury pool is all about opulence and sophistication. It's not surprising why many able homeowners decide to spend money in lavish backyard pools as they see it as a means to improve the value of their homes.
Luxury pools can have anything from floating pavers, opulent patio furniture, state-of-the-art pool pumps, water jets, LED lights, to fountains.
Basically, anything that implies luxury and grandeur, the kind of place where wealthy artists would spend their weekends to boost up their creative juice and businessmen to help them calmly strategize their move for their next business venture.
However, luxury pools don't have to cost you an arm and a leg, you can give your pool a treatment based on what to you is luxury.
It could be a large wall and a projector installed near your pool so you can watch movies while taking a dip or a small fridge where you can keep cans or bottles of your favorite ale.
6. Indoor Pool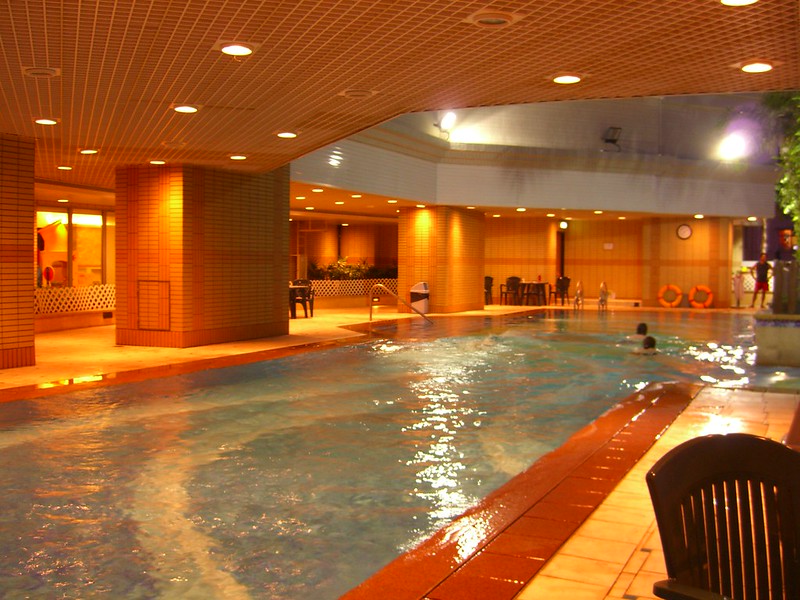 If you like the feeling of being sheltered while soaking up the sun, an indoor pool will get the job done. You'll have a roof over your head which means that you can swim without having to worry about being exposed to the elements.
Furthermore, an indoor pool offers better heating compared to an outdoor pool for obvious reasons. Homeowners can also enjoy a little bit of savings as the costs for indoor pool heating are lower than outdoor pools.
An indoor pool offers natural insulation and allows improved heat retention because of its enclosed structure. Oftentimes, indoor pools will have some sort of transparent roof which makes for natural lighting possible.
If you want a backyard pool that's like an extension of your home, you should consider getting an indoor pool.
7. Outdoor Pool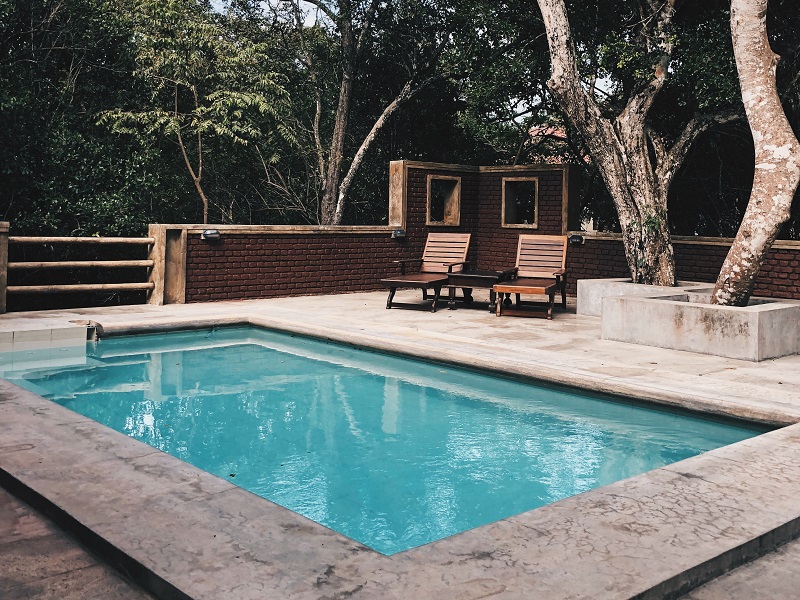 The exact opposite of indoor pools and is the more common variety between the two. Outdoor pools are situated in your backyard and offer very little to no shelter.
An outdoor pool may leave you naked to the elements but it allows you to appreciate what mother nature has to offer. You'll get your fair share of sun and fresh air with an outdoor pool, this also means beers, barbecues, fountains, and firepits.
You can add almost anything to an outdoor pool to make your staycation a lot more exciting.
8. Indoor/Outdoor Pool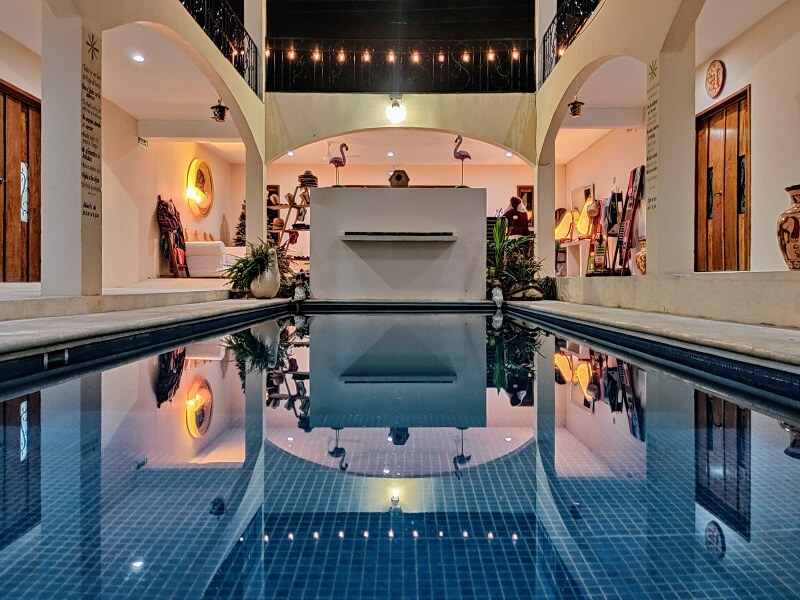 Offering the best of both worlds, an indoor-to-outdoor pool provides a partial shelter that opens up to an outdoor area. You can set up wooden furniture and similar side tables in the roofed area of your pool as well as other amenities like a TV, a kitchen, and a fridge.
In the outdoor area, you can set up a fireplace, a grill, or a spa. You can easily jump in and out of the pool and hide under the shelter of an indoor/outdoor pool should the weather be too hot or too cold.
It's swim season all year round if you have an indoor/outdoor pool in your backyard. It provides you with both the comfort of indoor pools and the excitement of outdoor pools.
9. Infinity Pool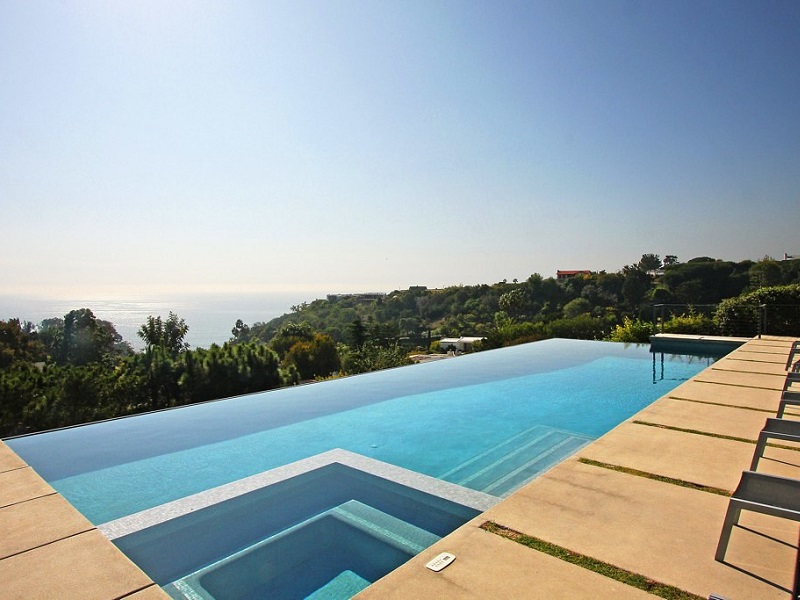 One of the more popular trends in pools nowadays, an infinity pool offers more than just a seamless view. They are often and always custom-built and would look best for backyards in the uplands that offer a nice view.
The edge of the pool is designed so that it appears to merge with a larger body of water or in some cases, the sky. The water is made to flow over more than one edge which creates an illusion that the pool has no boundaries.
While infinity pools are a great place to dip in and have fun, it's often appreciated for its serene atmosphere and calming vibe.
Because of its unique and distinct appeal, infinity pools often appear on social media posts and is one of the most Instagrammable pool design.
10. Lap Pool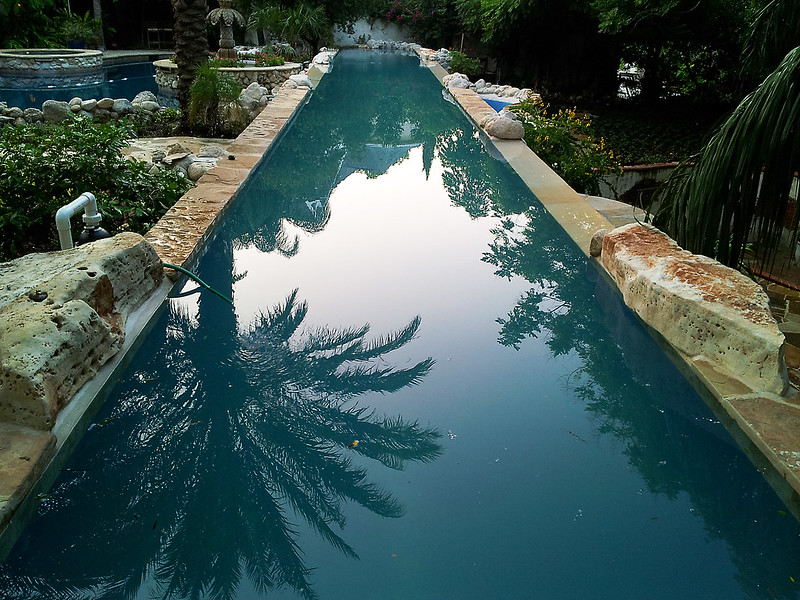 Designed and engineered for health and fitness, lap pools are often long, narrow, and shallow pools that are typically rectangular in shape and are built on likewise, long and narrow lots.
If you're the kind who wants to put in a few laps when you get in and out of the pool, having a lap pool in your backyard will definitely come in handy.
Although it's mainly used as a means of exercising, lap pools have also found their way into many houses because of their shallow depth that makes for a relaxing casual dip.
Since you only have half of your body soaked in water, you can comfortably chat with friends and families while partially immersed in pool water.
Because lap pools aren't too deep it's a more affordable option and maintenance of a narrow and shallow pool will also be a lot easier.
11. Party Pool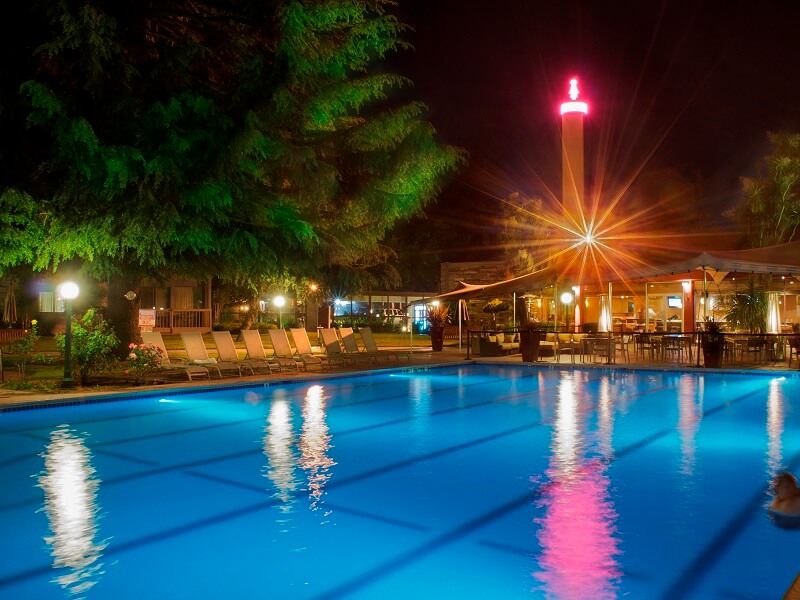 Party pools are pretty much straightforward. These pools are usually found in establishments where parties and similar events are usually held.
However, there's no stopping you from having a party pool in your backyard. Because they're made for people to take a casual dip while in the middle of a social gathering, party pools are often wide and somewhat shallow.
Party pools can be with or without a roof and can have various types of amenities like LED lights, a large screen for playing video clips, sound systems, and everything that will help you keep up that party vibe.
This type of pool is for the party-goers who might just want to hold a party of their own right in their backyards. You can set and throw private parties for friends and relatives, all while in the safety and comfort of your property.
12. Family Pool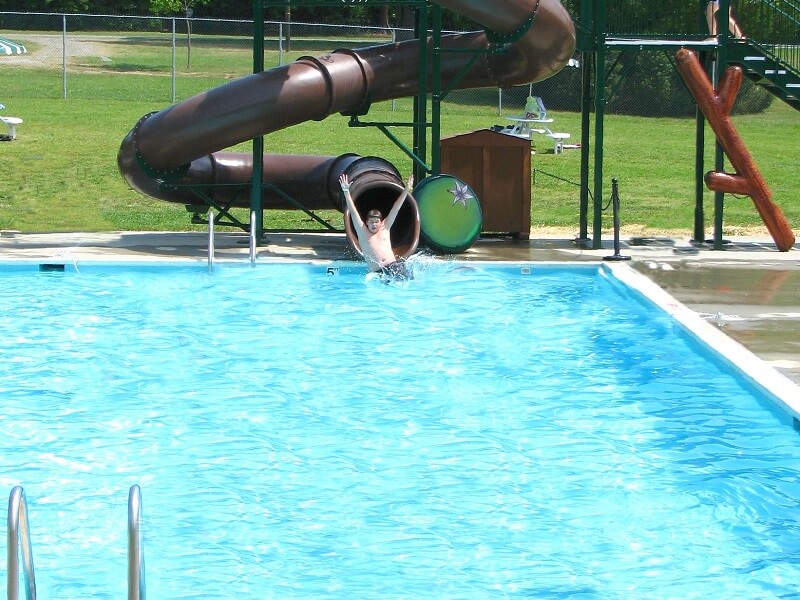 Family pools are made for the whole family and are usually kid-friendly. That means it's a recreational pool that has a strong emphasis on "fun."
Pretty much like a water park but at home. That said, a family pool can have a slew of recreational amenities like water slides, pool basketball hoops, pool volleyball nets, and even tunnels and boulders where children of all ages can play and have fun.
Because they're meant for both the children and the parents, family pools will have a shallow and a deep end. This means that kids can safely play around the water while their parents can watch them over from a safe distance.
A family pool can help turn your backyard into a safe and fun place for exciting water activities for you and your family. Let your child be the envy of the block by putting up a family pool in your backyard.
13. Pool with Beach Entry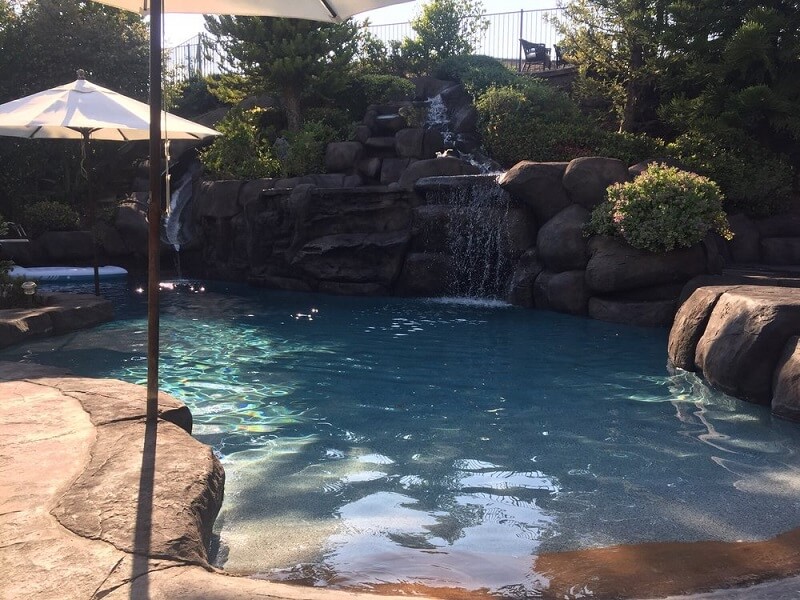 Adding a beach entry to your backyard resort is a good option if you want to give your backyard pool a facelift this 2020.
Beach entries are often the best choice for pool owners who are planning on pool remodeling or pool resurfacing. Pools with a beach entry do not only make the pool look more inviting but also allow you to have a small and shallow area right before you hit the water.
Beach entries are often made from natural stones and can serve as a replacement to traditional pool steps. It can be a wide entry (where you can place wide umbrellas and pool furniture) or a narrow one which will serve as a means of entering and exiting the pool.
Beach entries can be with or without handrails. Ultimately, this type of backyard pool design works well with open spaces that will help you relive your escapades and emulate the perfect beach life.
14. Raised (Concrete) Pool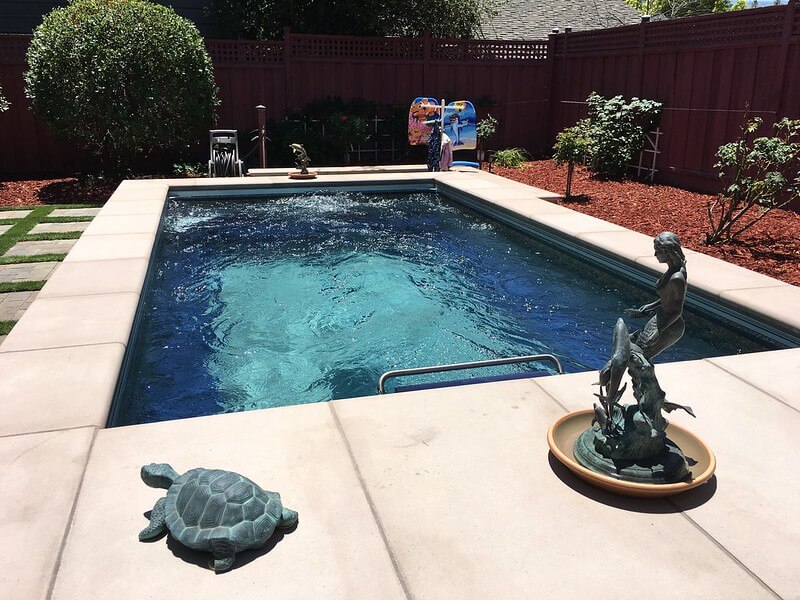 Pools don't always have to be in-ground. In fact, there are a lot of homeowners who have raised pools in their backyards.
A raised pool is often shallow which makes it perfect for a casual dip and is great if you are going for a modern aesthetic as the looks of raised pools deviate from that of traditional in-ground backyard pools.
Because the pool has a raised wall, you can combine it with various pool ideas like an infinity pool or line the edges with beautiful coping.
Raised concrete pools allow you to get creative with landscaping as the exterior walls offer more canvas that can be lined with ornamental pool tiles or decorative natural stones.
However, a raised pool will require steps to get in and out of but can also be designed accordingly.
15. Pool and Spa Combo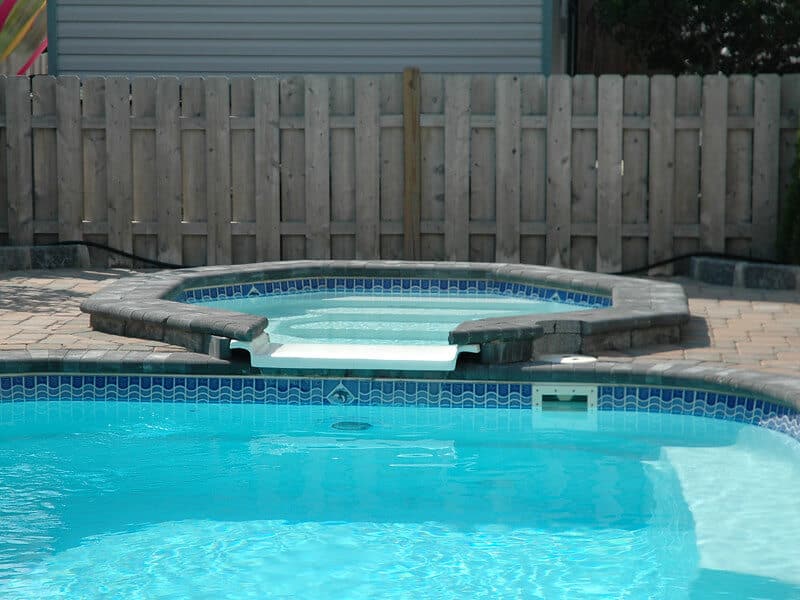 Colloquially known as "spools," a pool and spa combo is perfect for homeowners with a small space. Spools do not require a large area and are often a great backyard pool for those who like to keep their aquatic haven versatile.
That said, a pool and spa combo can be heated and used in conjunction with water jets for water therapy or can be cooled for casual swimming.
Because it's not as big as common backyard pools, spools can double as an attractive water feature in your backyard when not in use.
It's best for unwinding after a long work week and allows you to personalize your experience with the use of a pool heater and water jets. Because it's small, the care and maintenance of spools are simple and affordable.
16. Pool with Baja Steps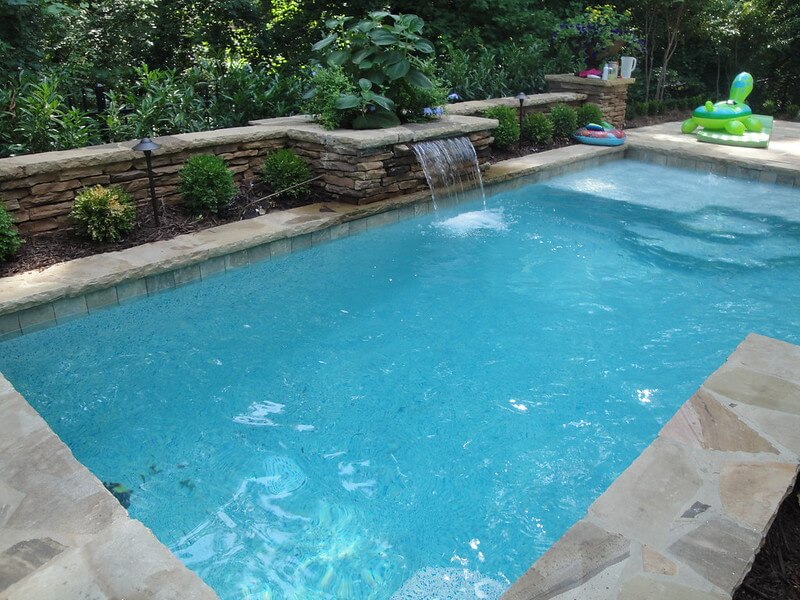 Another great idea if you want to improve the looks of your backyard pool is to add Baja steps. Baja steps are expansive steps that serve both as an entry and a wide shallow space.
Don't confuse them with beach entries and spas, while they can be used as an entry and exit point to your pool or as a shallow area to sit and lounge around, Baja steps have more tricks up their sleeves.
One of the most popular uses for Baja steps is the placement of lounge chairs and large pool umbrellas allowing you to enjoy a little bit of shade whilst casually lounging in your pool chair.
One cannot resist sipping on a cold glass of wine while enjoying the warm summer sun when seeing lounge chairs and Baja steps.
If you already own a pool, don't worry. With pool remodeling, you can add Baja steps to your old pool making it look more updated and functional.
17. Mosaic Pool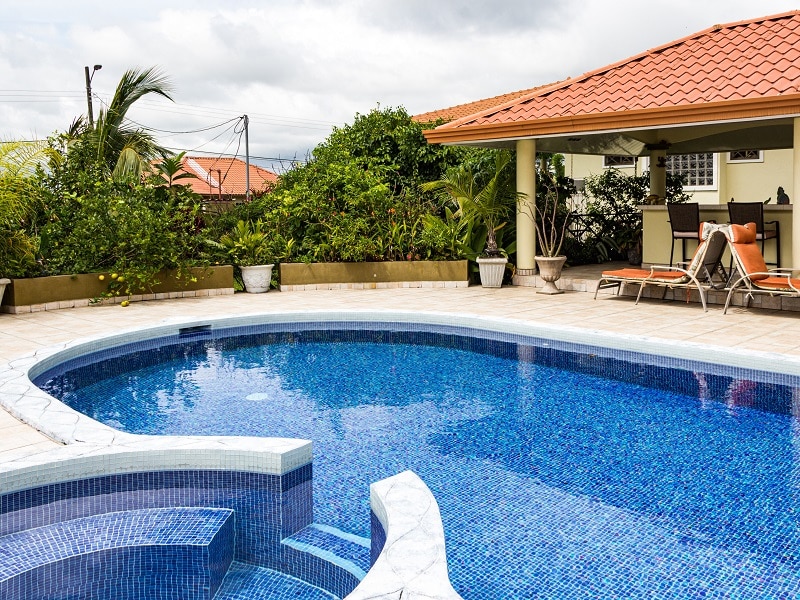 If you're an artistic kind of person, you're sure to love mosaic pools. A mosaic pool is lined with small pool tiles of various colors to create a wonderful masterpiece.
The pool interior can be personalized so as to reflect you and your interests. Some of the more common designs include dolphins, shells, and sea waves.
There are also pool owners who write their initials on the pool floor using mosaic tiles. However, the best examples of these works of art are those that have luxurious and sophisticated patterns that resemble Greek and Roman baths that give their mosaic pools a classic and timeless look.
You can elevate the look and feel of your backyard pool by turning it into an oasis that looks like it belongs in a book.
18. Courtyard Pool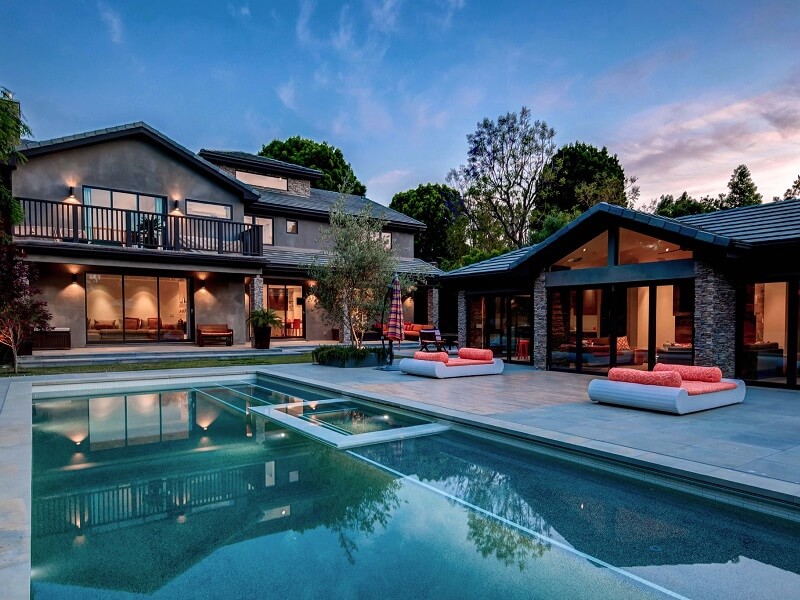 Another pool idea for homeowners with small spaces. Courtyard pools give off a feeling of swimming in a sheltered oasis.
A courtyard pool is best for small backyards with enclosed walls. You can add a small gazebo and line the walls with greenery to give that authentic courtyard feel. It's a great place to read books in the afternoon and drink tea, but nothing's stopping you from browsing the internet on your laptop and sipping on a cup of joe.
That said, you'd want to put up patio furniture where you can lounge all day round. Courtyard pools don't have to be extravagant making them one of the most popular choices for homeowners who are on a budget.
Because they're also small, they're quite affordable to maintain.
19. Roman Pool
If you want an in-ground pool that looks timelessly beautiful, you should be considering Roman and Grecian pools. These pools offer a simple but classic design in that the pool itself is rectangular in shape, but instead of having sharp edges for corners, it has semi-circles at the pool's sides and ends.
It has an architectural appeal that resembles old bathhouses of Grecian and Roman concepts. While you can get away with white plaster, Roman pools are best paired with tiles and a deck of natural stones.
Like many backyard pools in this list, Roman pools can fit in small backyards and would be a great private oasis to relax and soak up.
20. Pool with a View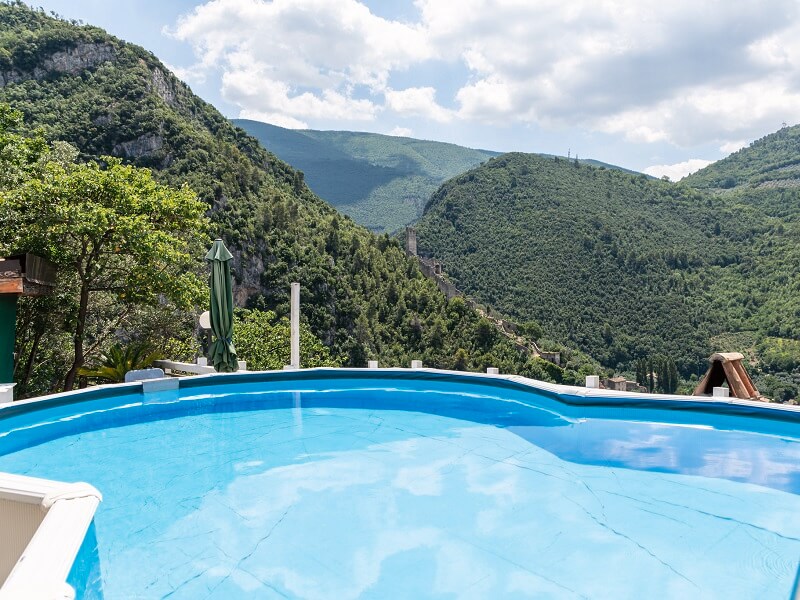 If you live in a place overlooking a great view, you might want to have your pool situated near the scenic panorama.
Not only does it allow you to dip in your pool while enjoying the scenery but these types of pools are also known to increase the value fo your home.
With a breathtaking view, having a terrace or just a couple of pool lounge chairs are a must. While many would pay expensive hotel reservations just to enjoy a picturesque pool, you'll have access to one twenty-four-seven.
21. Glass Wall Pool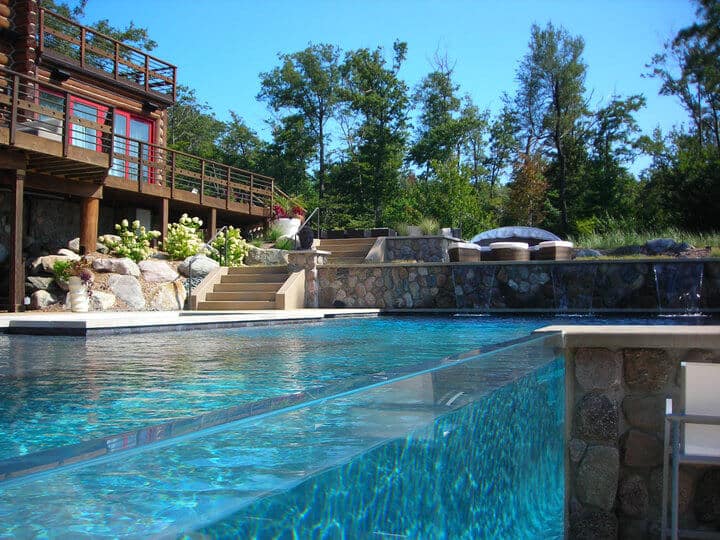 Glass-walled pools are often raised or above-ground types. They hold the pool water and yet create an illusion that there is none at all.
That said, you can better see the pool interior from the glass wall instead of perching over the deck to see the walls and the floor. A glass wall pool creates a unique aesthetic appeal and is great when paired with a beautiful finish like glass pool tiles.
While they were originally introduced as a means for diving and swimming coaches to view and observe their students, glass-walled pools have made their way into modern homes with stylish backyard pools.
22. Architectural Pool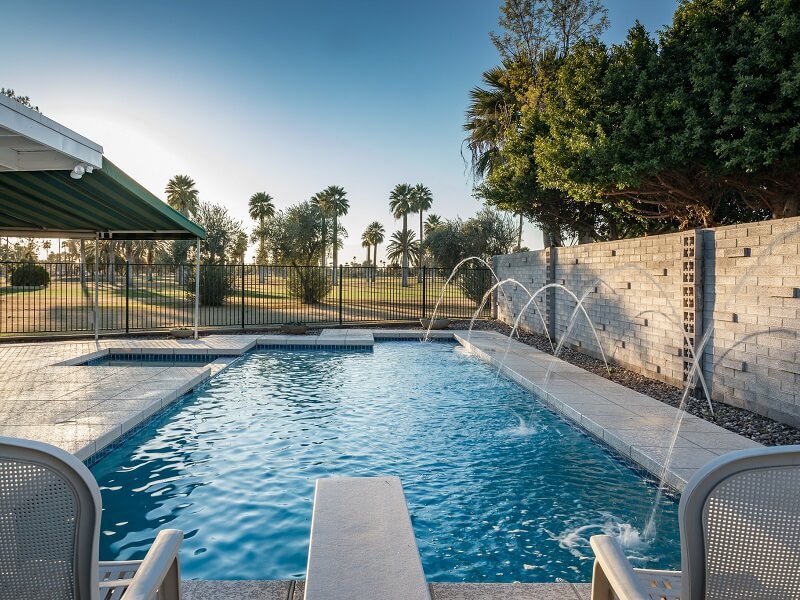 Architectural pools are unique and vary depending on the design and style of a home. That's because architectural swimming pools are made to complement the architectural style of a house.
On that note, you'll notice the striking resemblance of formal lines and geometric shapes shared between the house and the pool. You will also see the same layout on the pool's deck as well as other amenities and features the pool has to offer.
Houses with a modern design will often have a modern architectural pool while a home that has a rustic look will have a pool of similar detail.
Interesting read: Water Features You Can Add to Your Pool
23. Designer Pool Deck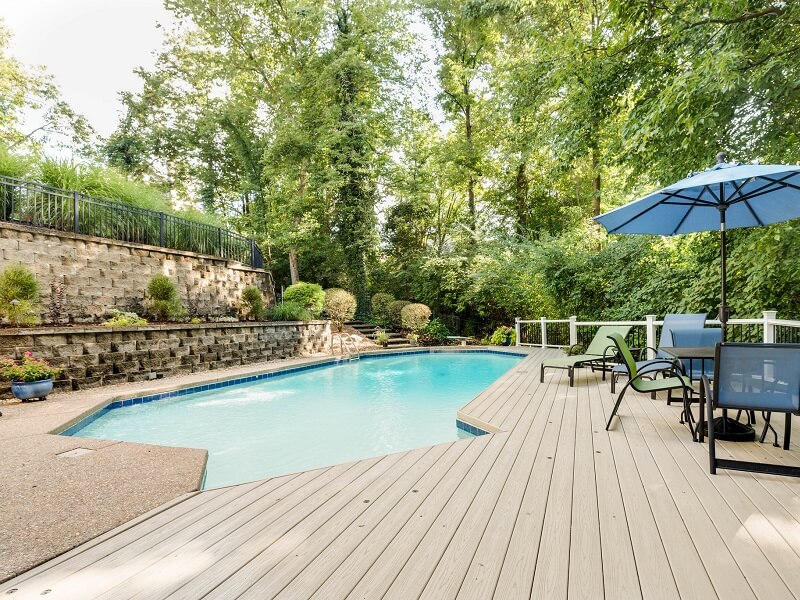 When you talk about swimming pools, you just have to talk about decks. Pool decks are the immediate area that surrounds your pool and there are a lot of ways that your deck can improve the look and feel of your backyard pool.
They can be made to give both the deck and pool a cohesive look or make the pool stand out. Whether you're planning to have an in-ground or above-ground pool, a beautiful deck made out of wood, concrete, or natural stone can definitely take your backyard pool to the next level.
24. Pool Bar (Bar in a Pool)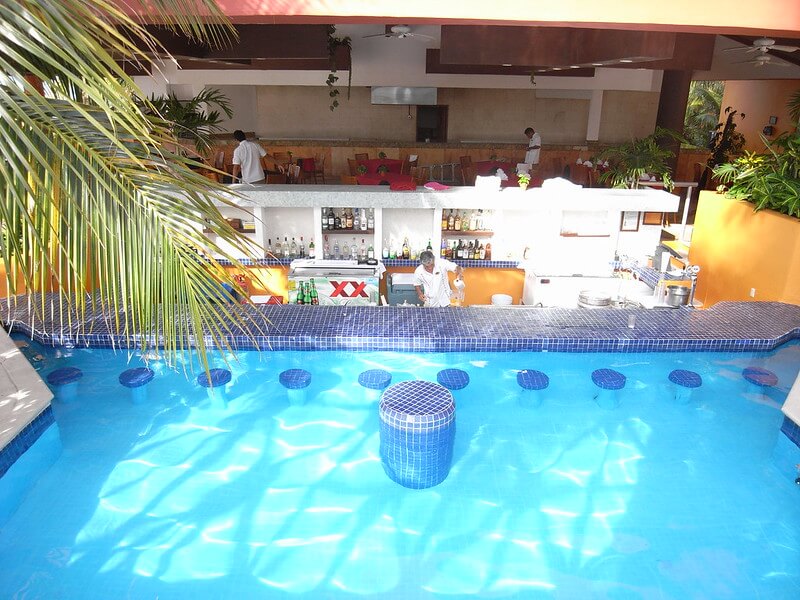 While pool bars are often seen in large resorts that offer food and drinks to guests while dipped in a shallow portion of the pool area, the same can be done on a backyard pool.
Most backyard pool bars sit near a raised above-ground pool with a bar or a mini kitchen across. Because most pool bars are sitting on a shallow edge, you can serve up milkshakes to your kids in the morning while they take a dip or dish out booze and snacks to your guests when they come over in the evening.
That said, a pool bar is a must for any fun-loving host.
25. Personalized Pool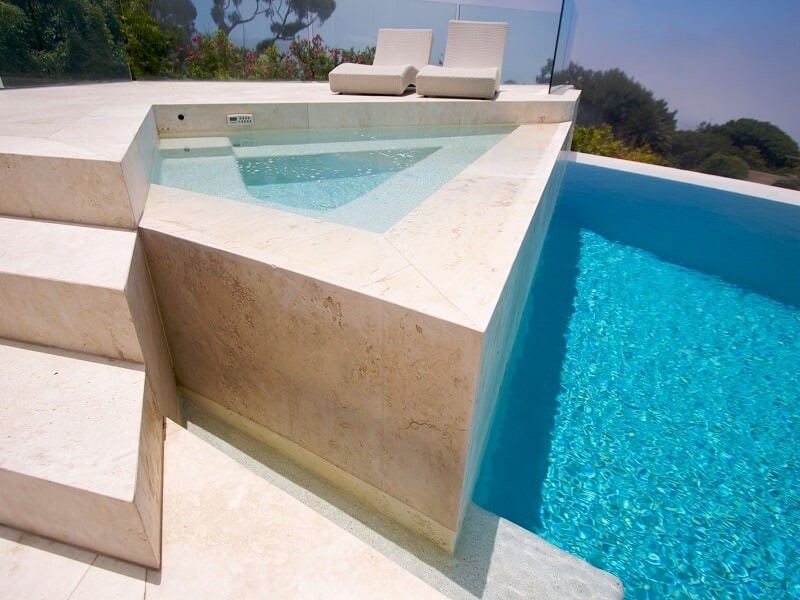 Nothing beats a pool that's outfitted with features and amenities that perfectly fit your needs. If you're one to have unique tastes and preferences when it comes to aquatic retreats, having a personalized pool will surely work out for you.
There are no limits to what you and your contractor can do when coming up with ideas for a custom-built pool as long as it falls within the city's building codes and regulations. If you have an old and outdated pool, chances are, you can still customize it through pool remodeling.
To learn more, read another helpful article: