Have you ever felt like giving your swimming pool a new look, but just can't put your finger on it?
Does your regular pool service and pool maintenance no longer satisfy the fashion you fancy?
Well, maybe it's time you sign up for a pool remodeling service.
Just like vehicles, motorcycles, and homes, swimming pools come in all shapes and sizes. The styles, concepts, and designs often reflect a part of the owner of the property or can match the overall character of the home it sits in.
When it comes to pool remodeling, the possibilities are endless. It can be an art form or just a place for friends and families to just kick back and relax.
Whether you need basic pool plaster service and pool resurfacing, or a major pool service, we at Stanton Pools' 5 Star Pool Service will help you every step of the way.
To help you with pool remodeling, here are 20 of the best swimming pool remodel redesign ideas in the state of California this 2020.
Let's start with some basic features and enhancements.
20 Best Swimming Pool Remodel Ideas
1. Pool Lights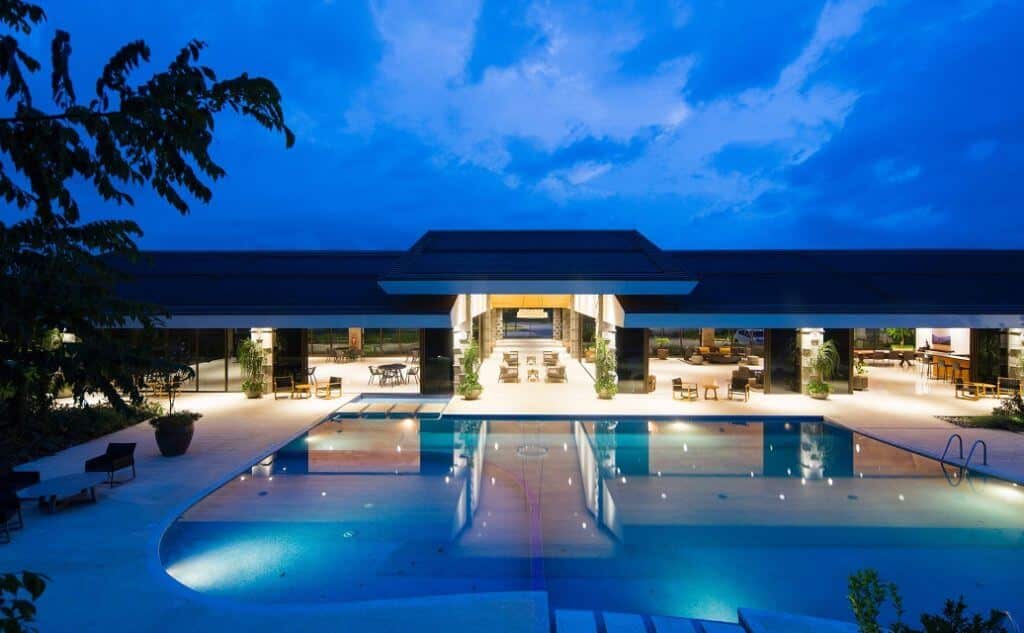 Alright, like our previous guide, we'll start with something simple and easy – lighting.
To help give your swimming pool a new look, adding LED lights is a good way to spruce up your private pools on the cheap. California is home to warm nights and adding a bit of lighting to your personal oasis adds life and light when dipping in the dark.
With that said, lighting is a popular remodel design idea, especially in our Hidden Hills pool remodeling and Simi Valley pool remodeling services.
2. Pool Hand Rails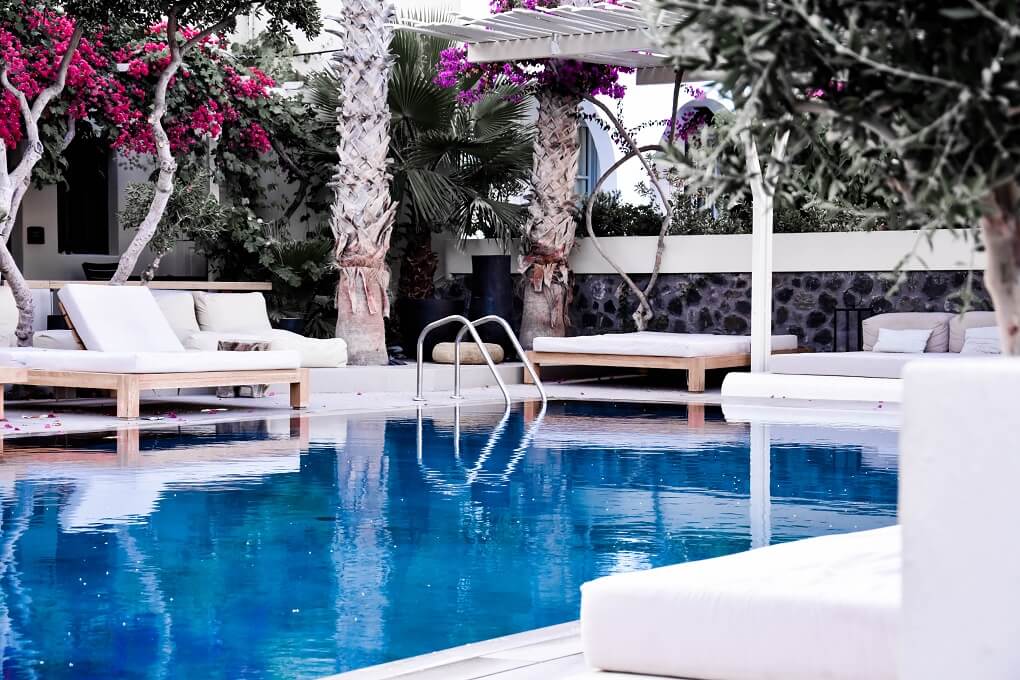 Adding handrails to your pool allows you to enjoy a functional style idea that adds both flair and function to your pool. This pool configuration is a well-received design idea we see with our customers who use our Simi Valley pool service and West Hills pool service, and who have elderlies and children living in their household.
3. Pool Water Falls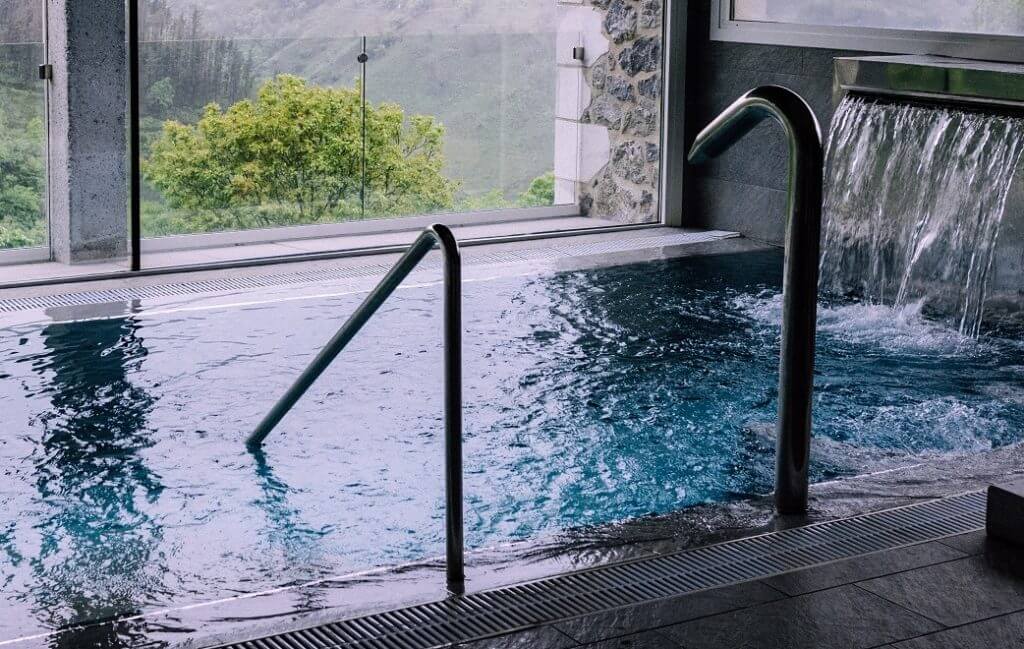 Cascading waters not only add visual interest to your private pools, but they also offer an aesthetic feel that calms and soothes the soul. If you want your swimming pool not only to look stunning, but also to be a place of relaxation, waterfalls can be a good place to start.
Waterfalls are an added feature we commonly see and encounter with our Tarzana pool service.
4. Pool Baja Steps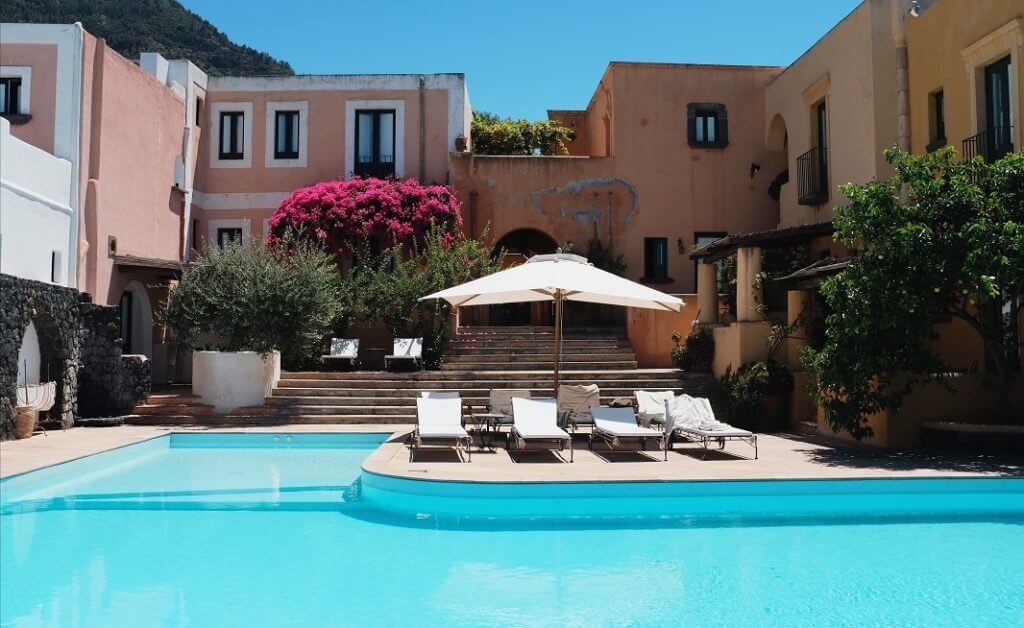 A Baja step, or a baja shelf, is a wide, shallow-water step that acts as the entrance to your aquatic haven. If you want to give your pool a new look, but still want to stay on your budget, a Baja step could be the pool remodeling idea you need.
We've done an impeccable baja step project in our Northridge pool plastering and Northridge pool remodeling service. You can also opt to pair your baja step with a pool plastering or a pool resurfacing service so that the steps will perfectly match the finish of your private paradise.
Related Read: Water Features You Can Add
5. Pool Water Slides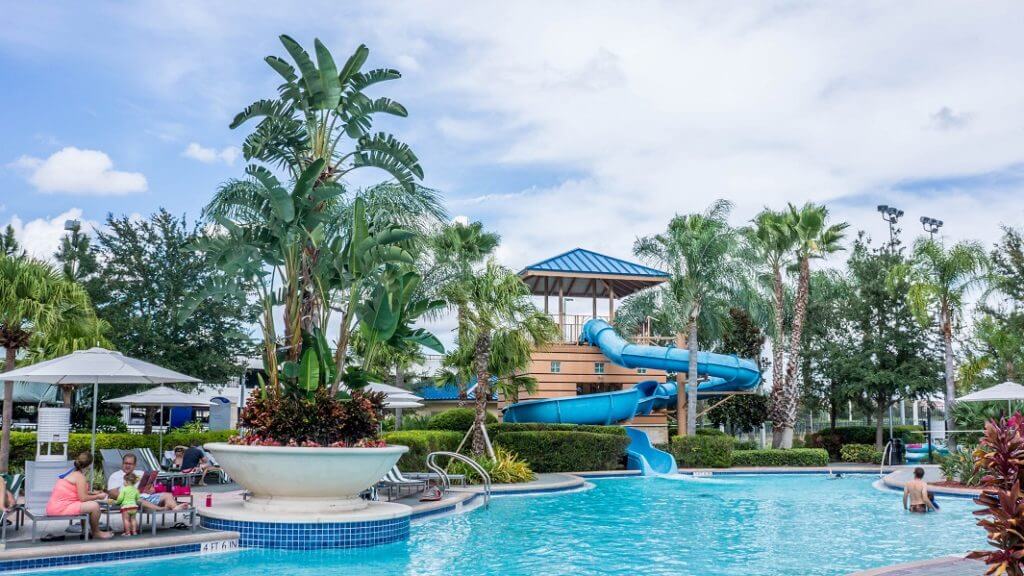 Water slides work well for families who find themselves entertaining relatives during the weekend.
You'd often see water slides on family recreational pools. Kids will enjoy the water park-like feel of having to dip into a pool and play along with these slides. Plus, maintaining water slides won't be that hard; simple pool cleaning service or diy pool maintenance will help keep the slides clean and safe for your kids to play in.
Like baja steps, it's recommended that you plan water slide projects in conjunction with pool remodeling and pool resurfacing services. You can match the finish of your water slides when you plan it with our Agoura Hills pool resurfacing and West Hills pool resurfacing services.
Now that we've covered the basic features and enhancements, let's jump into some advanced swimming pool remodel designs.
6. Pool with Spa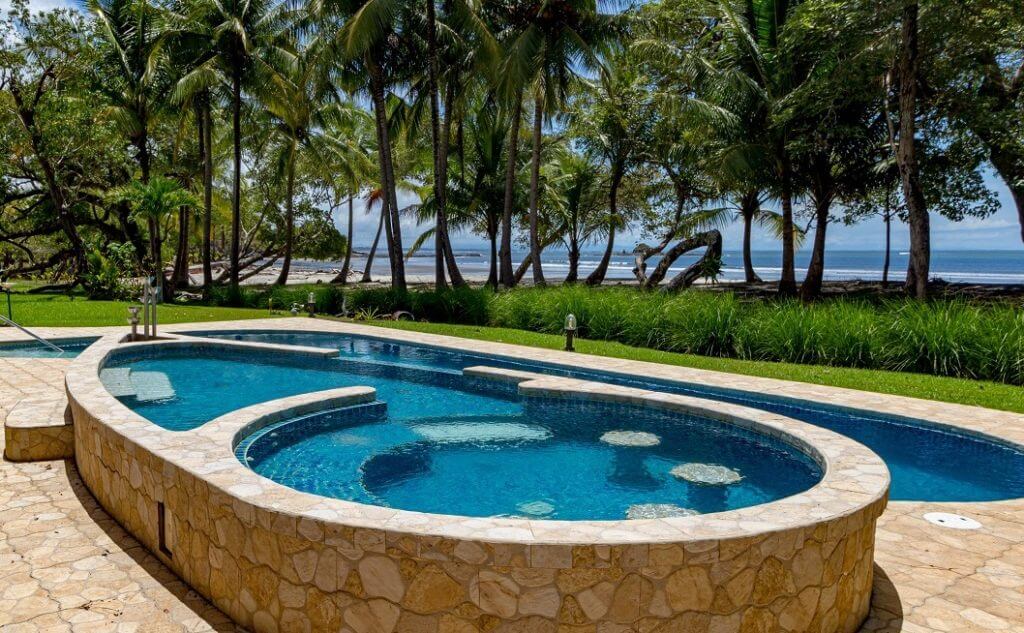 Another way to give your private pools a new look and feel is by adding a spa.
Often seen as smaller portions built adjoining a larger pool, spas can offer you a more personal space when all you want to do is let your hair down. It's also often shallow, so you need not worry about having to work your way in and out of your personal pond.
Our Moorpark pool resurfacing project allowed us to work on a spa and lay a two-toned finish on both the main pool and the spa. Coupled with LED lights and two varieties of mini pebbles, we can say that we left the finished project looking more like a fine piece of art.
The same can be achieved when you take advantage of our Winnetka pool plastering, Chatsworth pool resurfacing, and Canoga Park pool maintenance.
7. Pool Pebbles and Tiles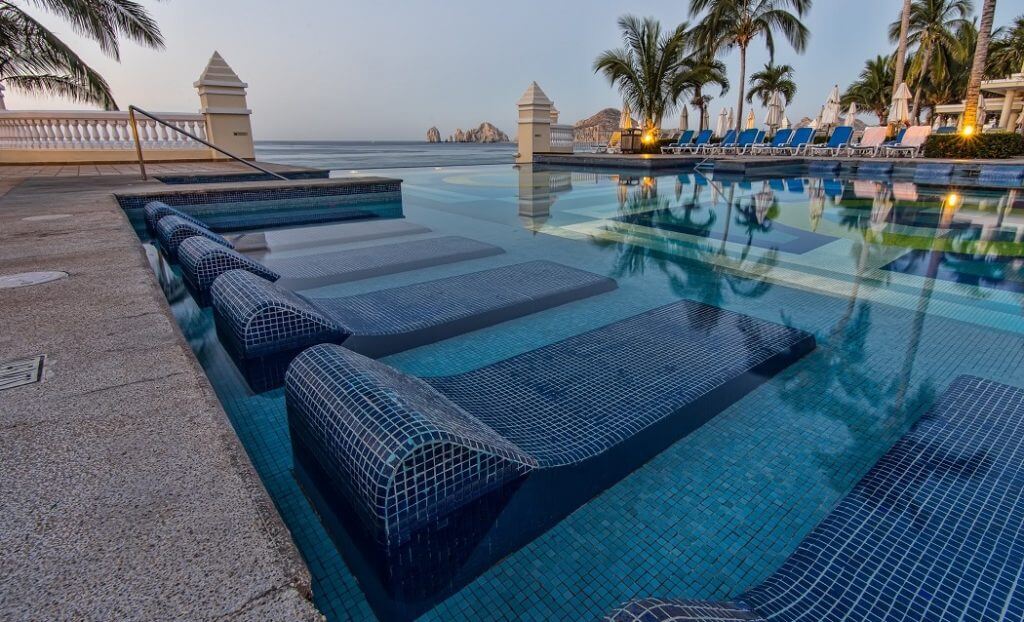 Mini pebbles and tiles can change the way your swimming pools look. Pretty much how you change your clothes, changing or even adding mini pebbles and tiles to your private pool will have the same effect. We did several projects of stellar results through our Simi Valley pool remodeling and Simi Valley pool service, as well as our Agoura Hills pool resurfacing projects.
For our Simi Valley project, we resurfaced the pool with mini pebble and applied a new waterline tile. Likewise, we installed beautiful waterline tiles and mini pebbles with step trim to complement the view of the pool we worked on in Agoura Hills near Malibu.
8. Swimming Pool Bottom Art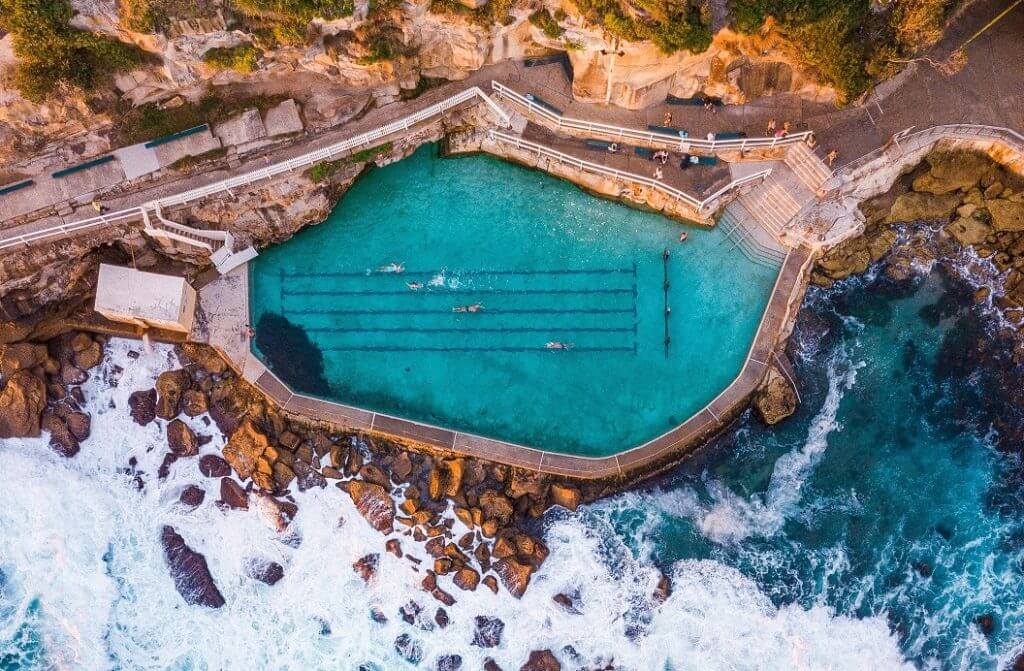 This design concept requires more than just the average handiwork.
Bottom pool art is the process of taking an artwork or making original art and applying it on the pool floor. This can be done by directly painting the pool floor, or by doing a mosaic of porcelain tiles on the swimming pool bottom.
Painting your pool floor makes for a more precise approach to applying the artwork, but installing porcelain tiles makes for a more durable and colorful result. Pool floor art is great, especially when the deck and the structures around the pool will match the artwork you want to be applied at the bottom of your swimming pool.
While initials are a common design in pool floor art, many pool owners also opt for designs like whales and mermaids. We can help maintain pool art with our pool cleaning and pool maintenance services. Sign up for our Chatsworth pool resurfacing, Winnetka pool plastering, and Canoga Park pool maintenance today.
Alright. Now it's time for some grand ideas! Say you're planning to give your pool the total makeover, let's talk about major remodeling ideas for your next re-do.
9. Minimalist Pool Design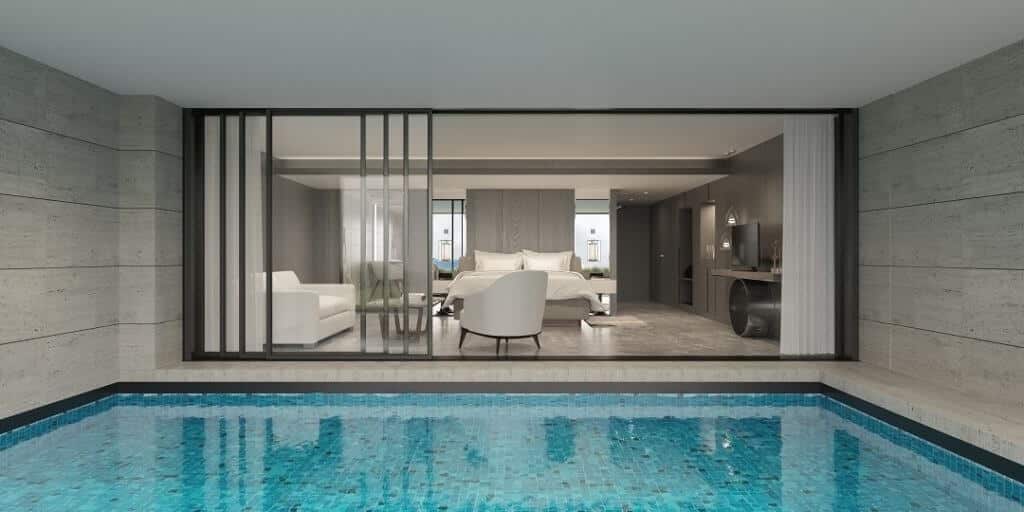 A minimalist pool is a great way to incorporate the design cues and the style elements of minimalism. It's one of the latest lifestyle and fashion trends that have seen quite an increase in popularity thanks to YouTube videos about famous vloggers taking up this discipline. The art of minimalism is deeply-rooted on the idea of relentlessly cutting down on things that do not make you happy and focusing on things that do.
Translated to swimming pool designs, a minimalist swimming pool will often be the owner's personalized approach to what makes them happy and how they see their personal piscina.
We'll help you maintain your minimalist swimming pool with our Hidden Hills pool remodeling and West Hills pool service.
10. Party Pool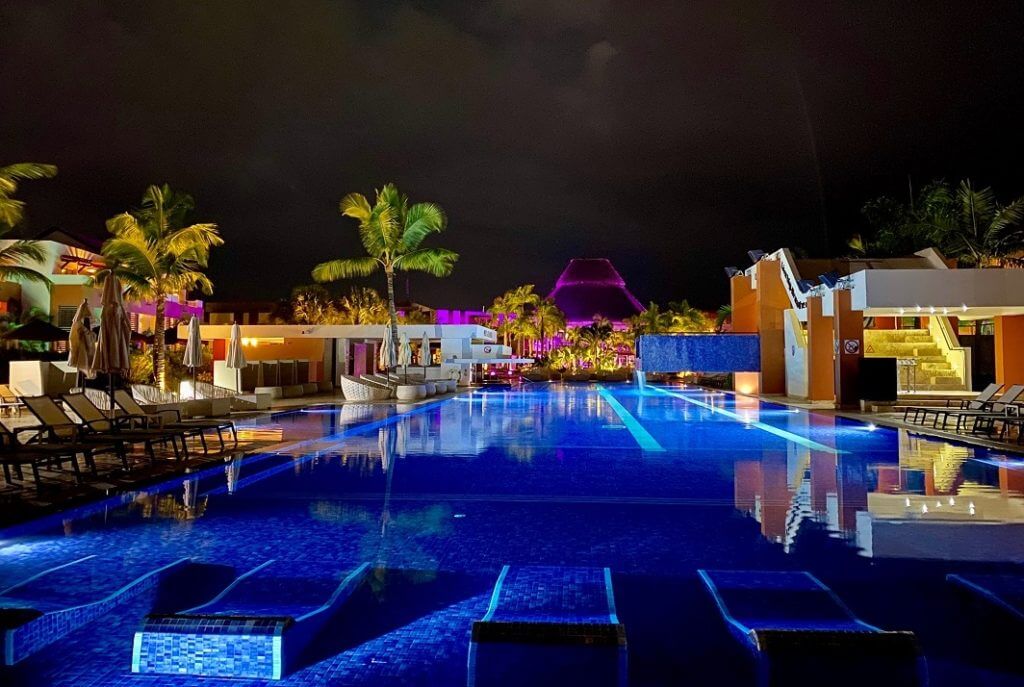 While you can host a party in almost any type of swimming pool, some pools were made exactly for partying. A party pool is often an indoor pool with shallow waters fully equipped with amenities geared towards providing your guests a good time.
We're talking large screens and monitors for playing slideshows, videos, and karaoke! It's got furniture, fireplaces, lights, a bar, and a kitchen counter for serving food. It can be the place for birthdays, baby showers, team building activities, and even weddings.
However, because of how intricate a party pool can be, upkeep can be complicated. When you're in need of party pool resurfacing, sign up for our West Hills pool resurfacing and Moorpark pool resurfacing projects, we'll help you with finding the right solution for all your pool remodeling needs.
11. Architectural Pool Design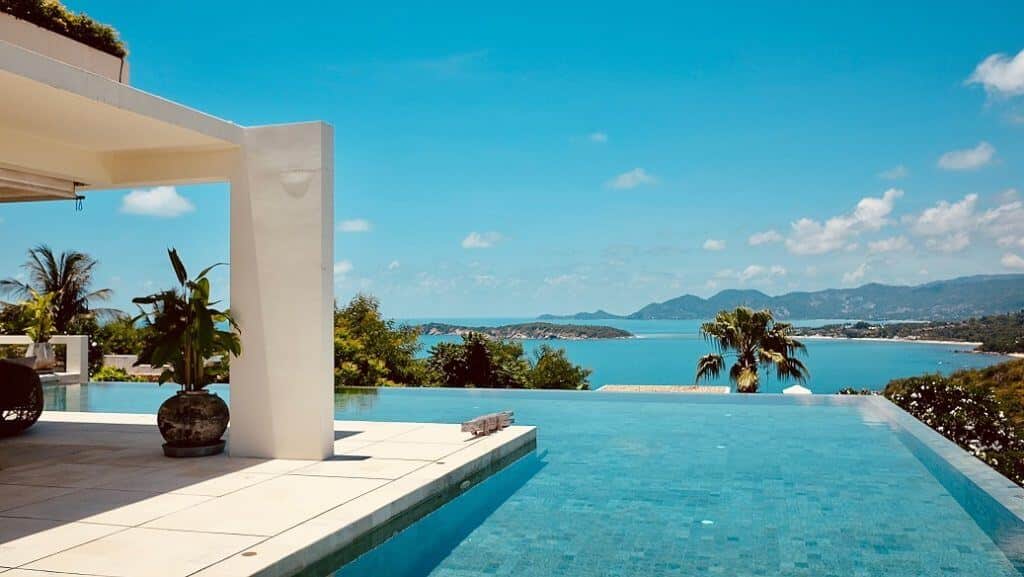 Architectural pools may look like they take a lot of work. But proper planning allows for easy and straightforward remodeling of your personal pool to match its architectural backdrop. That said, architectural pools must have lines and forms that mirror your home.
Oftentimes, architectural pool designs are used in hotels and in places where the main attraction is the beauty and the opulence of the infrastructure.
12. Infinity Pool Design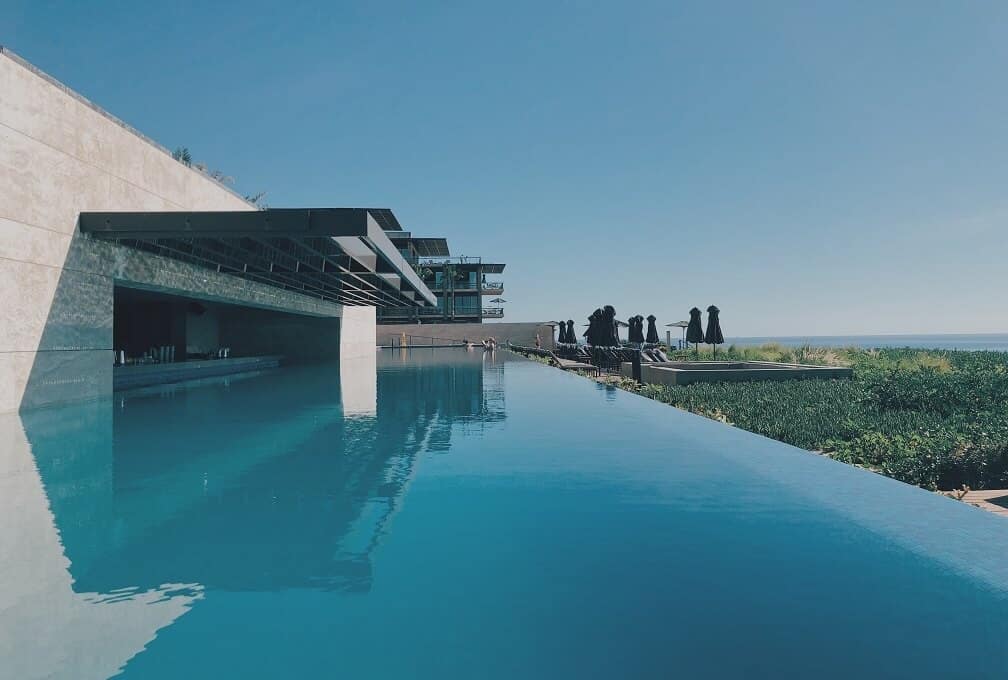 Like architectural pools, infinity pools tend to lie heavily in the aesthetic aspect of the pool. Go to Instagram and you'll see a slew of pictures featuring these pools. However, unlike architectural pools, infinity pools will often have nature for its backdrop. They are made to highlight a view. If you live in areas surrounded by mountains, then an infinity pool might just be the best pool remodel concept for you.
13. Indoor Pool Design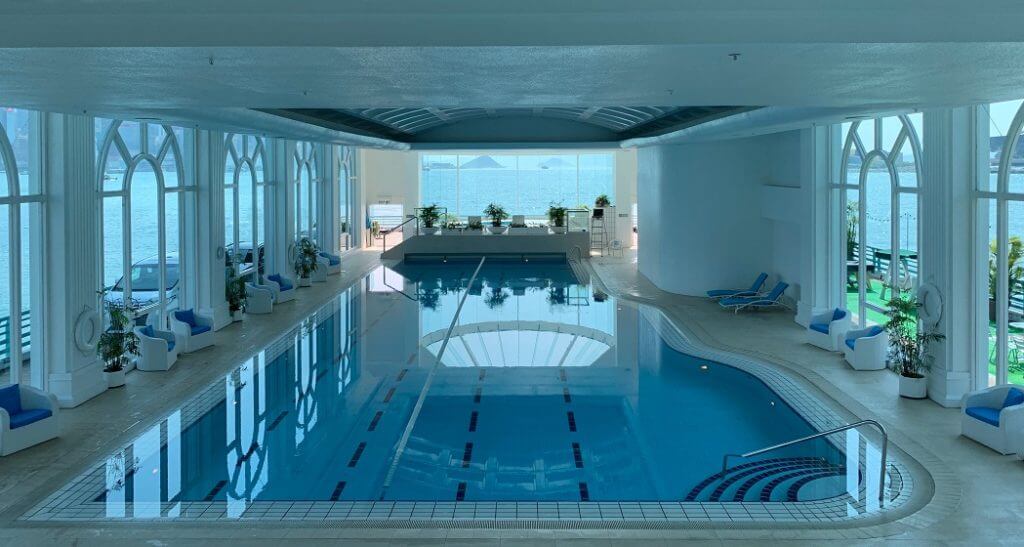 They say your pool is an extension of your living room. Well, if you opt for an indoor pool design when you remodel your pools, you certainly can make it a part of your living space.
An indoor pool is best if you like to put furniture near the pool, maybe add a kitchen, or throw in a large TV or a theatre, and let's not forget a bar. These are just some of the advantages of having an indoor pool. That's why many of our Northridge pool remodeling and Northridge pool plastering clients often take advantage of this design concept.
14. Recreational Pool Design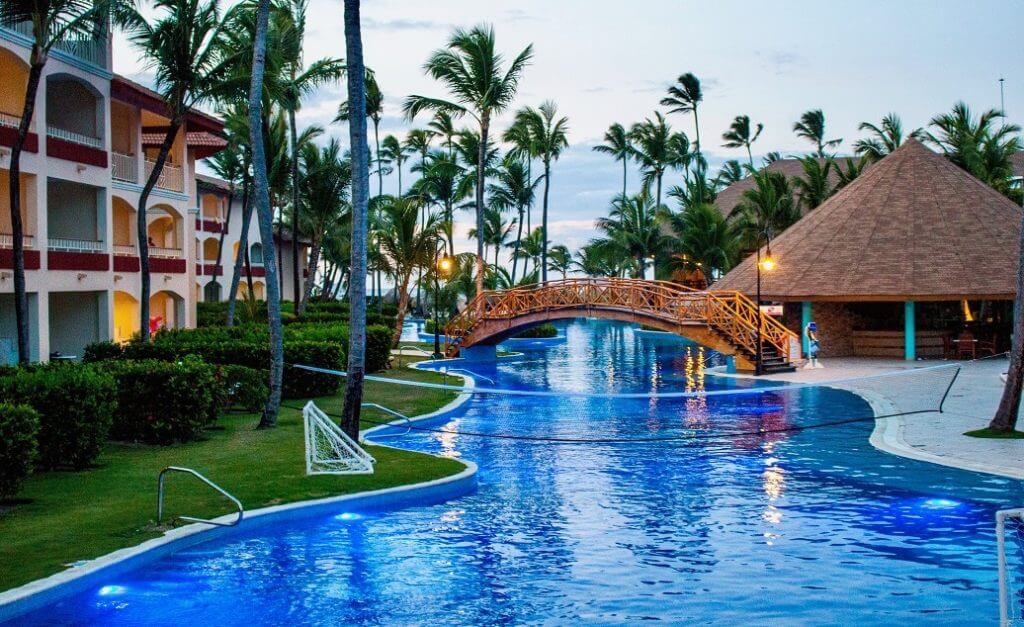 Recreational pools are a great option if you want to make your pool a space for you and your family. Having a recreational pool allows you to incorporate features and amenities like patio furniture, water slides, or a pool basketball goal.
Recreational pools allow children, adults, and even elderlies to have fun and enjoy your pool.
15. Natural Pool Design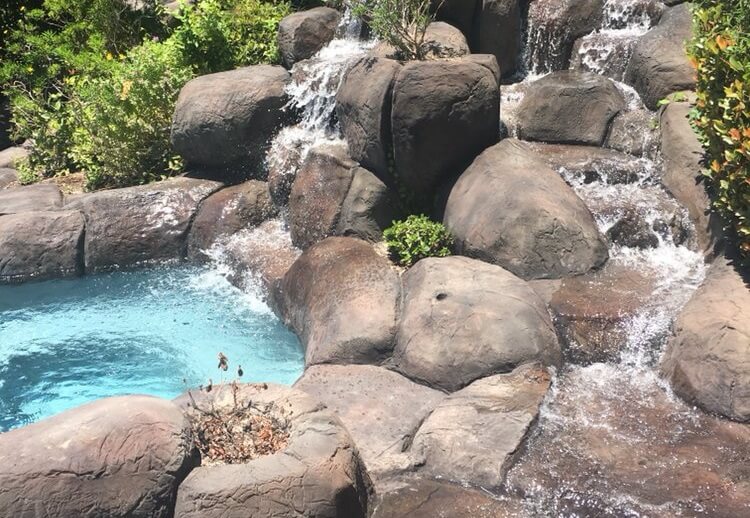 The name itself gives it away – natural pool designs take design cues from mother nature and allow you to fill the pool with boulders and plant matter without making the pool look like it's out of place.
You can turn your pool into a water garden and deck it with waterfalls and rustic stones. Plus, it gives it a more aesthetic feel with all the landscaping going on.
16. Lap Pool Design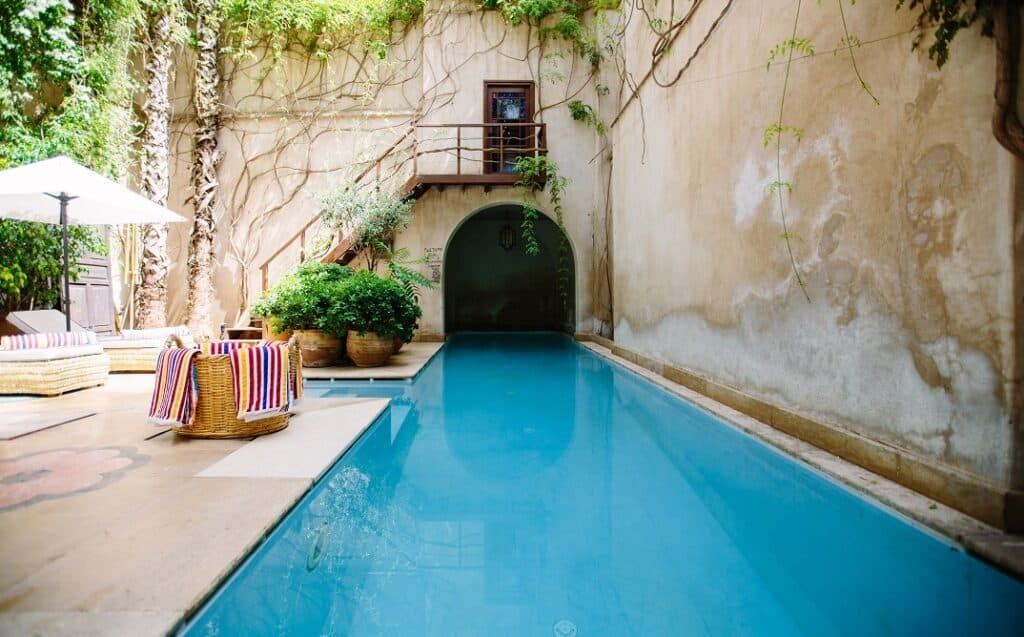 Picking up a new hobby? Want your pool to be a part of your new fitness routine? Then, go for lap pools. When remodeling your pools, you can opt to have a longer pool design allowing you to take several laps in your own backyard.
17. Custom Pool Shape Design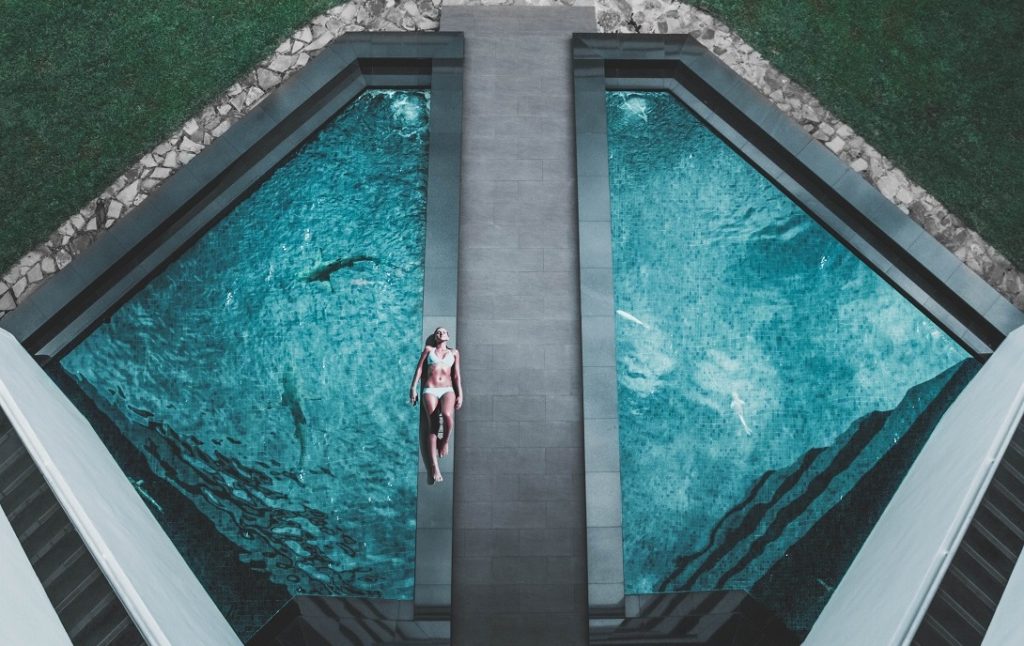 While the average pool often come in squares and circles, others want to have their pools come in custom shapes. Some of the more common custom pool shape designs include lagoons, figure eights, grecian, and gothic. You can also opt for a unique design of your own like a guitar, the shape of a football – anything you might fancy.
18. Pool Spa Design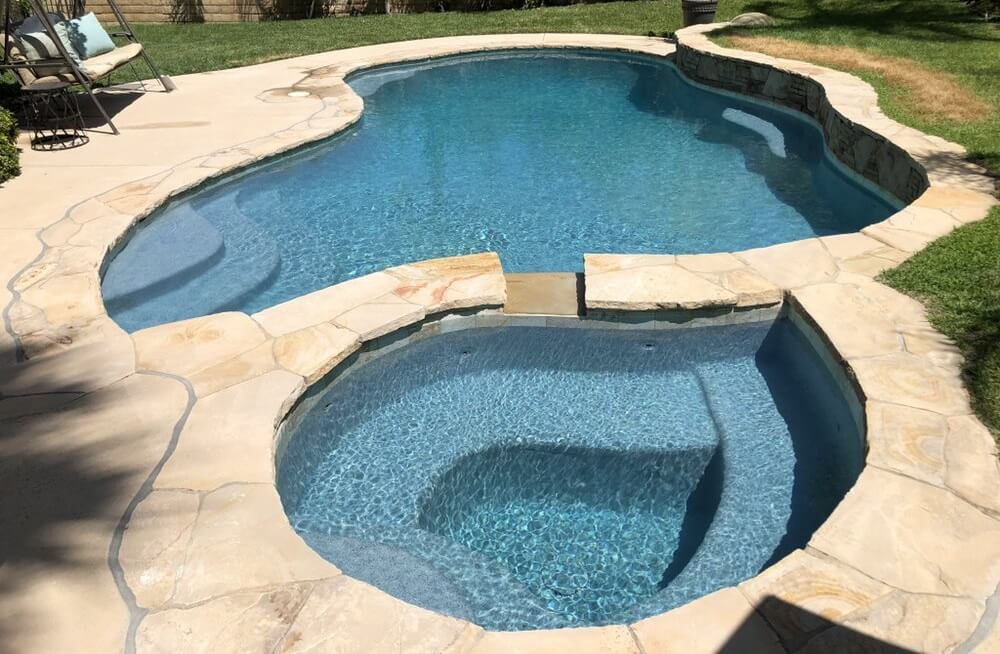 Spas are another of those multi-purpose pools that can be built alongside the main pool but is often constructed separately as a stand-alone infrastructure along the pool deck.
Spas will be smaller in size and will have heating and jets for both fun and relaxation. While plunge pools are for cooling off from a heated activity, spas are for warming down after a hard day's work.
Related read: What are the Benefits of a Hot Tub?
19. Spools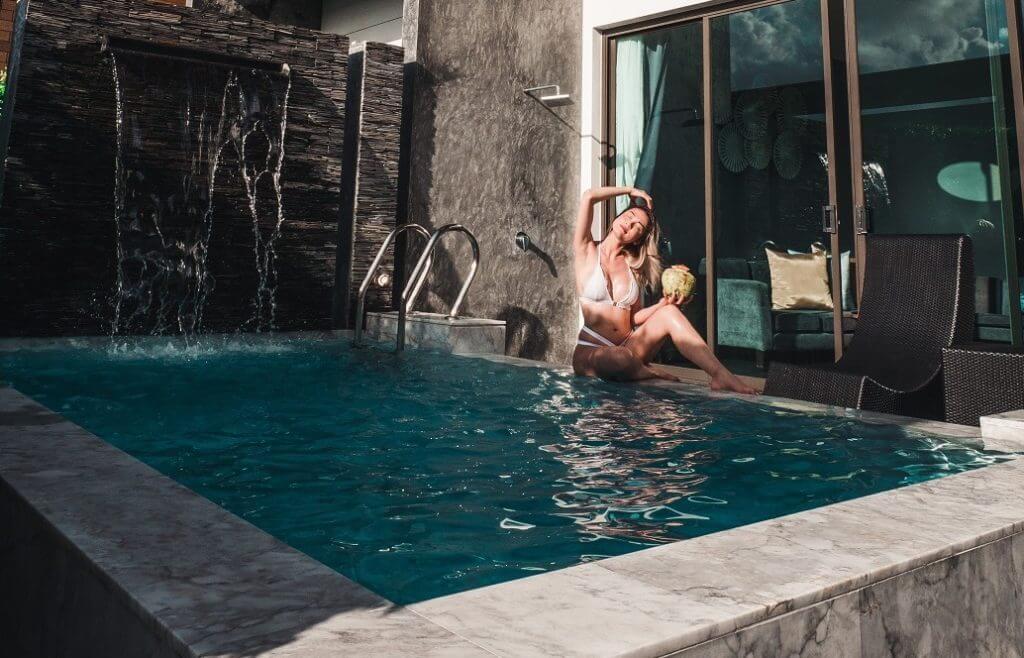 A combination of a spa and a pool, spools are smaller and can accommodate a pair who are in for a dip.
When wanting to remodel your pools, you can opt to have a spool installed in a smaller area of your backyard. This makes for a more personal space when wanting to relax with utmost privacy.
20. Saltwater Pool Design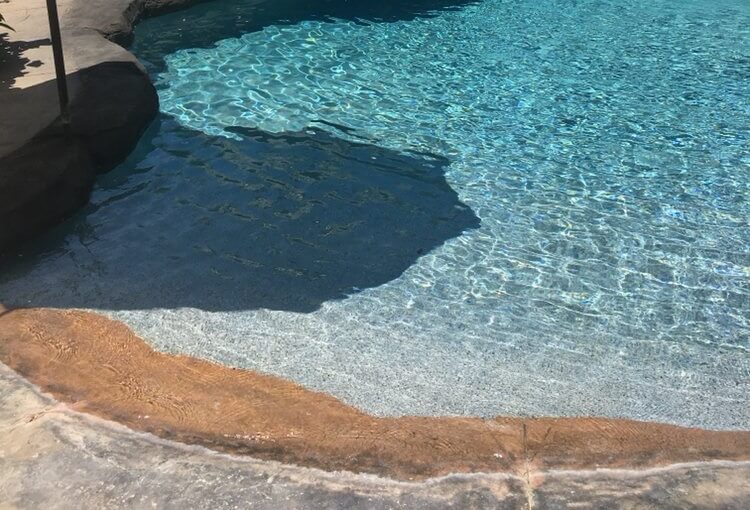 When remodeling your pool, you can opt to change not only how it looks, but also how it functions. Pretty much like installing new equipment, going for a saltwater pool design will change your pool from the inside as well as on the outside. Using a saltwater chlorinator allows you to reap the benefits of a saltwater pool system compared to a regular chlorine pool.
Learn more, read another helpful article: