Mini Pebble & Faux Rocks in Newbury Park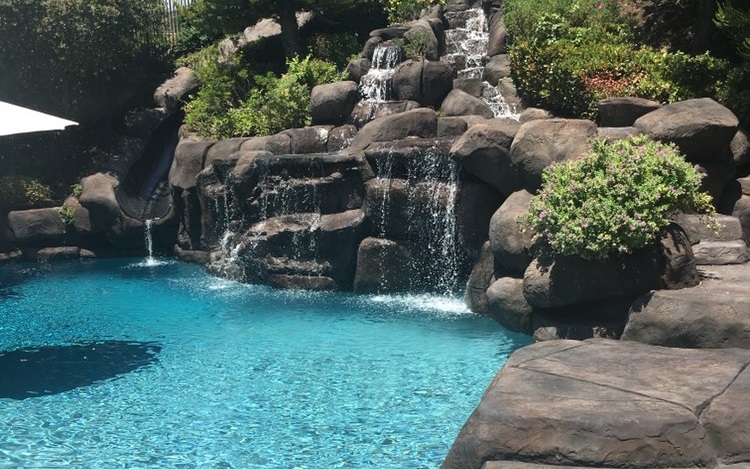 Services: Custom Design, Inground Pool Cleaning, Pool Plastering, Pool Remodeling & Renovation
Project Duration: 1-2 months
Get Started...It is Risk FREE!
Mini Pebble & Faux Rocks in Newbury Park
Not all pools are made equal. With this in mind, we, at Stanton Pools, know that each pool offers a unique look and feel and it's important to preserve this aesthetic value in each project. We offer the best pool remodel and repair services. Stanton Pools is known for delivering professional quality pool solutions like pool plastering, custom pool design, and overall pool remodeling and renovation services. We also provide maintenance services like in-ground pool cleaning and specialized pool maintenance solutions.
What sets our services apart from the competition is that we care not only about the pool's soundness and stability. We know that part of remodeling private pools is to elevate both its look and overall structural integrity. We take design and aesthetics into account and pay attention to our customer's request of giving their pool either a cohesive design or to make it stand out! Whether you're aiming for a pool that shares the same design language as your home or one that makes for a highlight in your property, we're the team to call. For the best poor remodeling in Newbury Park, contact Stanton Pools.
As an example of our stellar remodeling feats, check out this pool we worked on in Newbury Park. We resurfaced this pool with mini pebble and brought back to life these beautiful faux rocks with a new finish. Here's a quick look at what we did to give this pool a new lease in life.
Outdoor Pool Aesthetics
No one knows pools like we do! Here, at Stanton Pools, restoring and rebuilding pools is our passion. In this Newbury Park Pool, we resurfaced the old pool interior to make way for the new pool pebble. In our resurfacing and replastering services, we use only the chip out method. This allows us to remove most of the pool's old interior, which is important especially when remodeling and resurfacing old pools. Exposing more of the concrete underneath allows us to provide better adhesion to the new surface giving it a better bond. When done properly, this results in more durable results. That said, the chip-out method ensures that the pool pebble to be applied in this pool will look as good as it will last. We've been remodeling and renovating pools for over a decade and it has been our goal to provide our customers with the best service. On that note, we use only the best methods to achieve relatively superior results. The chip-out method is a method recommended by the National Plasterer's Council.
Once, the appropriate amount of concrete is exposed, our team begins working on applying the new interior – in this case, mini pebbles. We use mini pebbles from NPT, which offers similar results as other expensive products like Pebble Tec, but at a more affordable cost. It's one of our most sought-after pool finishes because of its beauty and durability. Mini pebbles use smaller pebble stones that give the pool a more natural look. It's the perfect pool interior for an outdoor pool such as this. It also pairs well with the faux rocks that line the landscape of this homeowner's backyard. Together, the mini pebble and the faux rocks give the backyard a natural cohesive look that brings the beauty of this private pool. The waterfalls also add a nice touch together with the natural plant life in the stones. Overall, the pool offers a relaxing atmosphere that's perfect for lazy weekends with families and friends.
If you want a pool that's cool and beautiful as this one in Newbury Park, just give us a call and find out why we're Newbury Park's most recommended pool company.
Learn more about our pool remodeling service.