Two-Tone Pool in Moorpark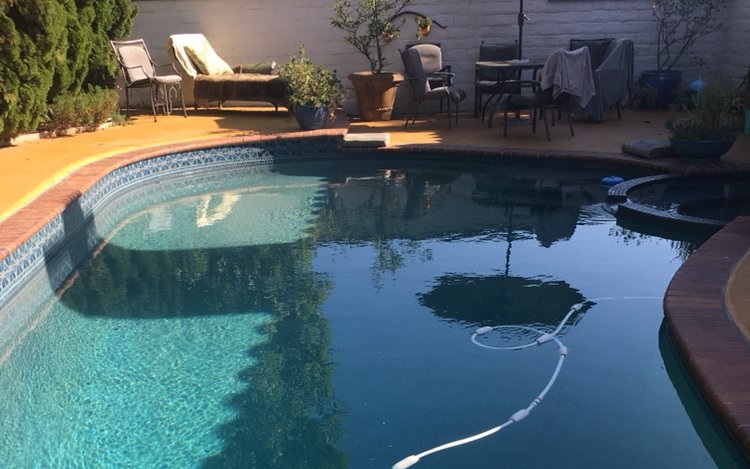 Services: Custom Design, Pool Heating System Repair, Pool Plastering, Pool Remodeling & Renovation
Project Duration: 2-4 weeks
Get Started...It is Risk FREE!
Two-Tone Pool in Moorpark
This customer in Moorpark wanted one color in the pool and another color in the spa, so we applied two different mini-pebble colors. This, along with new tile and color-changing LED lights, really make their pool stand out!
Pool remodeling and renovation can involve anything from simple arrangements to major makeovers. In this project, our customer wanted more than just the usual pool pebble. The pool was built with the main pool and an adjoining spa. Because the pool and the spa are connected together, using a two-tone design helps give the pool different dimensions. We, at Stanton Pools, use the best methods for pool resurfacing and pool remodeling, which ensure the best results in terms of both beauty and durability. Like this remodeling project, we also offer the best pool cleaning and pool remodeling in Moorpark. For more information about this custom-designed two-tone pool, here's a quick look at what we did in this pool remodeling service.
The Best in Pool Pebble
For pool owners in the city of Moorpark, the go-to company when it comes to resurfacing pools with pool pebble is none other than Stanton Pools. We're Moorpark's finest and here's why. From the start until we finish each project, we make it to a point to keep our customers informed and updated. We believe that in communication, we get to know our customers better and in return provide a better service fit for their needs and this way of doing business reflects why we're number one in this project.
To give our customers the perfect finish for their pool, we used mini pebbles with two colors in the same tone. We used NPT mini pebbles; they are known for their beauty and overall aesthetic quality, which makes them the perfect choice for this project. The use of mini pebbles, like Pebble Tec, has grown in popularity in the past few years. That's why many pool owners have taken a liking to pool pebbles because of their benefits. Mini pebble offers a unique look and feel, the kind you won't get from your traditional plaster. Mini pebbles use smaller pebble stones, so they make for an elegant interior finish. Unlike plaster that may sometimes be mistaken for painted concrete, pool pebbles create an air of sophistication and a refined look. As seen in this project, the use of pool pebble blends well with the pool exterior (pool coping and pool decking), which improves the pool's ambiance. And honestly, the way our mini pebble feels is way better than it looks. Because mini pebbles from NPT uses smaller pebble stones, they turn out smoother than the average pool pebble. They're more comfortable to the touch and do not hurt your feet even when you've been in the pool for hours. Pool pebble is also more capable of holding up against chemically treated water. It requires lower maintenance and can stay strong and durable making it a practical choice.
Here, at Stanton Pools, we apply pool pebble by hand. The pebble mixture is troweled into the wall of the pool down to the floor. Because the entire process is entirely carried out by hand, it will boast a distinct character through its unique symmetry, color, texture, and surface. Apart from customizing the pebble, we also updated the pool tile to match that of the two-tone pool pebble. We used blue tiles from NPT, which not only matched the hues of the pool pebble, but is also at par with the mini pebble's longevity and durability. The tiles stretch from the waterline to the top of the wall separating the main pool and the spa. We completed the look with LED lights installed in the spa to let swimmers dip even at night.
Learn more about our pool remodeling in Moorpark.