Shallowing the Pool in Westlake Village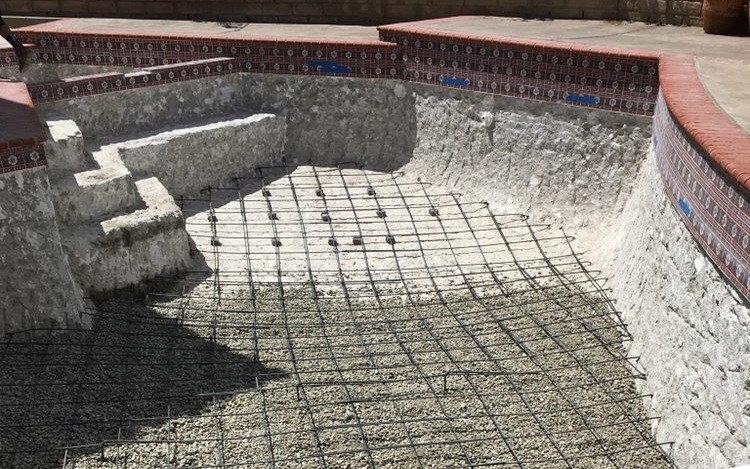 Services: Custom Design, Plumbing Services, Pool Plastering, Pool Remodeling & Renovation
Project Duration: 1-2 months
Get Started...It is Risk FREE!
Shallowing the Pool in Westlake Village
We, at Stanton Pools, offer pool services that do not only focus on pool maintenance and pool cleaning. Here's a quick look at a project we did for one of our customers in Westlake Village.
This pool remodel was done in Westlake Village. The customer wanted to better use their pool for water therapy, so we raised it from 8′ all the way up to 4′. To do this, we had to raise the main drain, split the suction, provide infill, and epoxy in rebar as well as pour a concrete base at the same time when we apply pebble or plaster. After it cured, we professionally bead blasted the old tile and applied mini pebble.
Pools Purposely Remodeled
It's not uncommon for pool owners to want to use their swimming pools for specific purposes. That's why we were so eager to carry out this pool remodeling in Westlake Village. While others invest in adding water features to keep their pools fun for their kids, others use theirs for water therapy. Water therapy is a popular form of remedy. It harnesses the physical properties of water by using low-impact activity to help people with a variety of medical conditions. Swimming pools have contributed to the success of water therapy in most patients, and we, at Stanton Pools, are proud to be one of the foremost pool professionals sought-after by pool owners to help them repurpose backyard pools into water therapy stations.
We provide professional quality swimming pool remodeling services to help change the shape, depth, and materials used in your backyard pool. We can help you turn a leisure pool into one that's better suited for activities like water therapy.
This project started with raising the main drain to a height that matches the new height. Alongside lifting the main drain, we also had to modify the suction by splitting it into two. This makes the pool safer allowing one of the two drains to take over should one be blocked. Splitting the suction helps prevent injury and even fatalities. We also added infill, strengthened the rebars with epoxy, and finally poured in a concrete base. It's important to let the concrete sit and cure to make sure it's as durable as the concrete where it was laid upon. To finish the project, we professionally bead blasted the pool tile. Bead blasting the pool's old tile to clean them and knock away any contaminants in the tile. Bead blasting is one of our preferred means of cleaning the tile with an abrasive material without damaging the pool tile. Lastly, we applied mini pebble to give the pool interior a smooth finish but still just the right amount of traction when you step in.
All of the features added in this Westlake Village pool shallowing project has its own purpose. We take into consideration not only the purpose of the remodeling project but also the safety of the pool owner and the ones using the pool in every pool remodel undertaking. We work hand in hand with our customers not only to keep them updated with the progress of the project but also to better understand their needs.
Stanton Pools Cares
What separates us from other pool professionals is not in our expertise nor in the time we've spent working as pool professionals. What keeps us on the map is our passion for what we do and our unyielding drive to help customers customize their pools. From installing water features to keep your pool fun and entertaining to tailoring your pool for water therapy, Stanton Pools is the company to call.
We care about our customers and see to it that the pools we build and remodel look as good as they are functional. For all your pool remodeling needs, contact Stanton Pools and find out how our team can help you get the pool you want and the pool you need.
Learn more about our pool remodeling in Westlake Village.
Get Pool Remodel Ideas.